I was inspired by my book club to make a dish from New Mexico last month — and the idea ended up in today's column on the art of freezing. (The hosts in my club — including me! — like to cook our meals inspired by something in the book. We were  reading "Brave New World," and New Mexico is where John the Savage and his mother, Linda, are from.)
Anyway, after reading today's food story — where I recommend using leftover pork to make posole — a reader emailed to ask for a recipe. Here's the one I used to make Posole with New Mexican Chilies for the book club.
If you want to use your leftover pork, I would suggest frying some bacon in your stockpot before you cook your onions — just to get a little more flavor in the pot as you get started. And by the way — just to get this recipe a little more seasonal — it would be delicious with leftover shredded turkey, too.
Here's the recipe!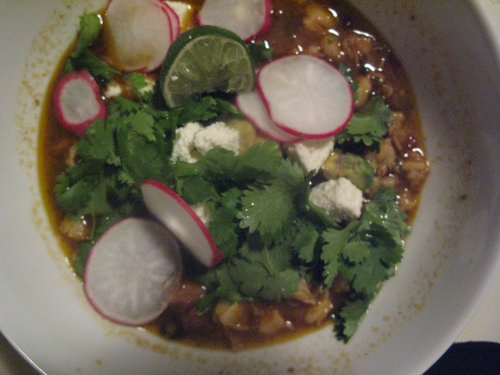 I was inspired by this recipe for Red Posole for New Year's from the Homesick Texan. But I switched things up a little.
I started by searing my pork shoulder in sunflower oil, then cooked the onion and garlic in the leftover pork fat, scraping up the brown bits on the bottom of the pan.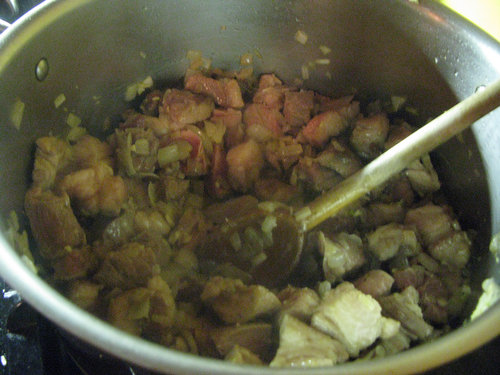 Then I added the chicken broth and spices.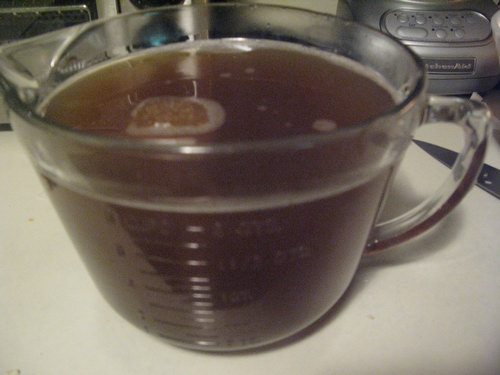 She called for ancho chili powder, but I used guajillo and regular McCormick's because that's what I had.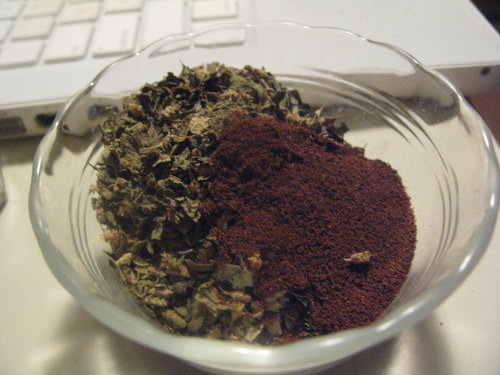 I did stick with her advice and use  a big ol ham hock: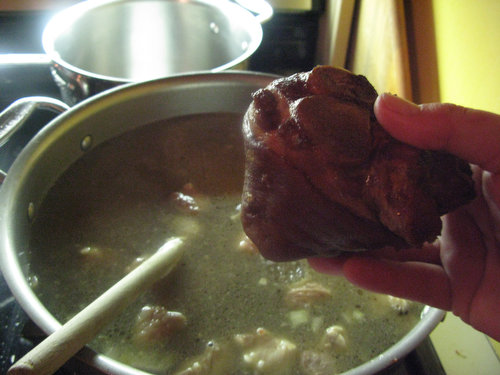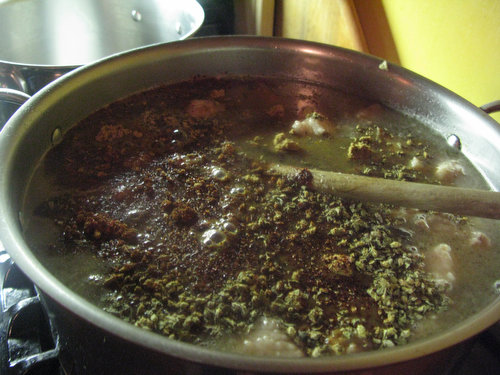 Toast the chilies in a hot dry pan: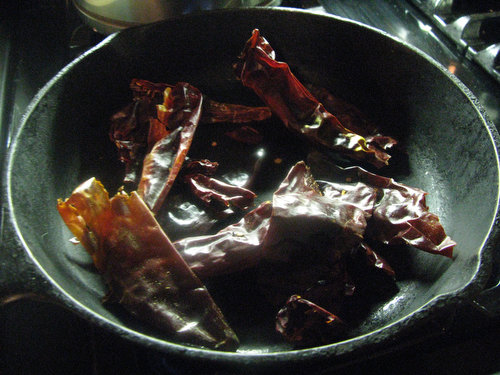 And then add water and let them soak for half an hour: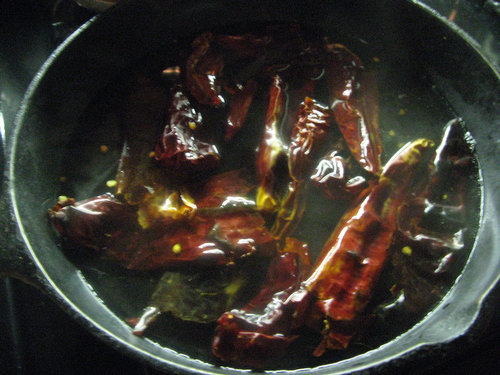 Drain and put the chilies in the blender.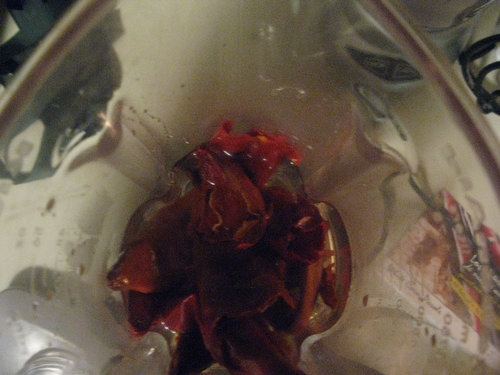 Add one cup of water and puree. Add to the soup — to taste! My chili puree was very spicy and I only used about a quarter of it. You now let it bubble away as you like. I cooled it down, refrigerated and reheated before supper.
Serve with garnishes, such as radishes, avocado, red onion and queso fresco.
Posole with New Mexican Chiles
1 pound of dried posole or two 29 oz. cans of hominy, drained
1 pound of pork shoulder, cubed
1 medium onion, diced
8 cloves of garlic, minced
2 tablespoons of lard, bacon grease, corn or canola oil
8 cups of chicken stock (can substitute part with beer or water)
1 smoked ham hock
1 tablespoon Mexican oregano (can substitute regular oregano)
1 tablespoon cumin
1/2 teaspoon ground cloves
1 tablespoon guajillo chili powder
1 tablespoon regular chili powder
9 New Mexico chiles, stems and seeds removed
1 cup water
Salt and pepper to taste
1/4 cup chopped cilantro
Juice of one lime
Garnishes:
One avocado sliced
Sliced avocado
Lime wedges
Cilantro
Sliced red onion
Queso fresco
Sliced radishes
If using dried hominy, soak the hominy a gallon of water for at least eight hours until it's doubled in size.
In a large pot, heat sunflower oil over medium-high heat. Brown pork for a couple minutes on each side, and remove to a plate. You may have to do this in batches. Turn the heat to mediu, saute the onion for about 10 minutes, scraping up the brown bits as you go. Add the garlic and cook for one more minute.
Pour the chicken stock into the pot and add the ham hock, oregano, cumin, ground cloves, guajillo chili powder and regular powder. Bring to a boil and then turn down to a low simmer.
Meanwhile, take your New Mexican chiles and cook on high in a dry cast-iron skillet until the pop, a couple of minutes. Turn off the heat, add water to the skillet and let the chiles soak until hydrated, about half an hour.
Drain the chile-soaking liquid, and place the chiles in a blender. Add one cup of water and blend on high until a smooth puree has formed. Taste the chili. Taste your soup. Figure out how much you need to add. Stir the chile puree into the soup pot.
After a couple of hours, add the hominy to the pot along with the juice of one lime and the chopped cilantro. At this point, adjust your spices and add salt to the pot. Continue to cook on low for a couple more hours.
Pour into bowls and serve with the garnishes.
Serves 8.