My husband uses the recipe from the back of the Ocean Spray cranberry bag. It's just oranges, sugar and cranberries. "I like the bite of the orange peel," he says. "I like the fresh quality of it. It's fruit, but it's just got the right amount of tartness. It's a nice balance of tart and sweet. It's so delicious with pork, turkey or chicken." Well, I don't have a bag of cranberries at the moment, but there's also a very similar recipe on Epicurious.com here.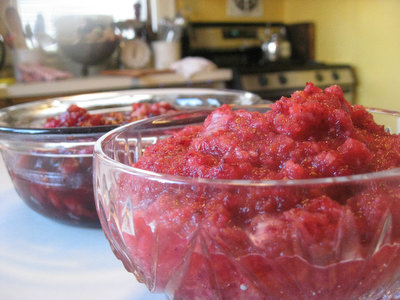 First you wash your orange: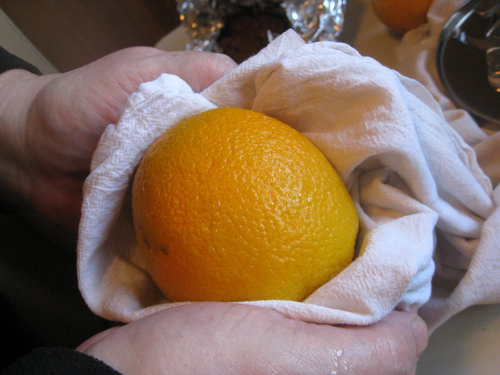 Then you cut it up and put it in the bowl of a food processor with cranberries and sugar: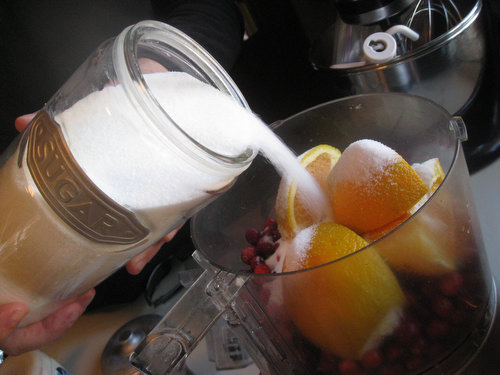 Pulse:
Allow to rest: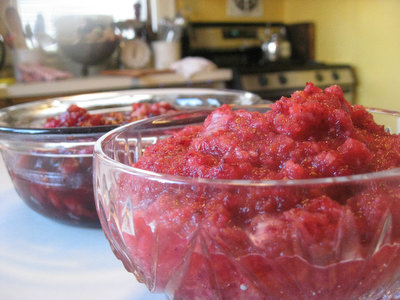 Cranberry Orange Relish Gourmet | November 2001
Active time: 10 min Start to finish: 2 1/4 hr
There seem to be two schools of thought concerning cranberry relish. Some people just like to dab their turkey with it, others consider it a serious side dish. If your family and guests fall into the latter category, you may want to double this recipe.
Yield: Makes 10 servings
ingredients
1 navel orange
1 (12-oz) bag fresh cranberries
1/2 cup sugar
1/8 teaspoon cinnamon
preparation
Finely grate 2 teaspoons zest from orange. Cut away and discard peel and pith from orange, then cut sections free from membranes.
Pulse cranberries with zest, orange sections, sugar, and cinnamon in a food processor until finely chopped. Chill, covered, at least 2 hours to allow flavors to develop.
Cooks' note:
• Relish can be chilled up to 3 days.