The Aviation cocktail is so popular in Manhattan that — at least in places with a good cocktail list — it's almost as easy to order as a martini. It's not so ubiquitous around here — in fact the only cocktail list I know that has it is X20 in Yonkers — but it's simple enough to make it at home.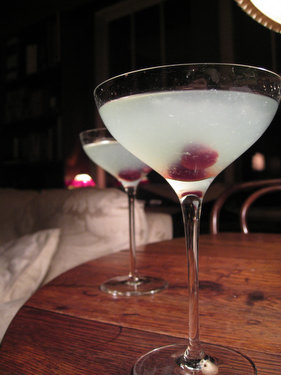 The Aviation is named for its sky-blue color. It's a classic from the 1930s, when air travel was glamorous and hope for the future was unbounded.
For many years, one of its main ingredients  — creme de violette — was nearly impossible to procure. But renewed interest in cocktails has spawned a cottage industry in bringing back old-fashioned flavors and liqueurs, including the creme de violette, which is made from the petals of violets. I found a bottle recently at Piermont Fine Wines.
Before that, I was using a bottle my friends snuck back in the country from London. And before that, even, I would make the drink without creme de violette at all.
But you can only get that blue color — which reminds me not only of the sky, but of the steely color of metal used to make, well, aircraft — by using creme de violette.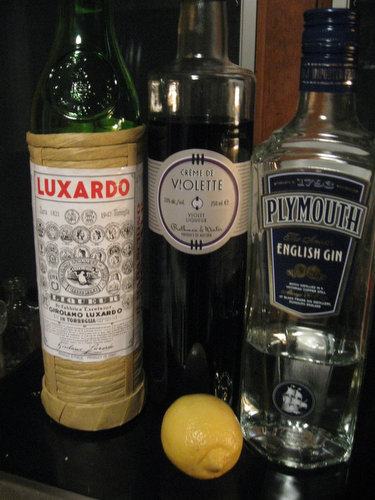 Maraschino liqueur is a little easier to come by. But if you can't find it, don't — by any means — substitute the syrup from maraschino cherries. Maraschino liqueur is indeed made from cherries (marasca cherries, in fact), but also uses their pits. It tastes more like a nutty grappa than a cherry.
Lately we've been fooling around with the proportions of the Aviation cocktail.
The first one is a bit sweeter, because it uses more creme de violette. It might be good for someone who isn't too keen on trying a new cocktail:
For 2 drinks:
2 ounces gin
1/2 ounce lemon juice
1/3  ounce maraschino liqueur
1/6 teaspoons creme de violette
This next version, we've found, is perfectly balanced between the aromatics of the gin, the brightness of the lemon, the thick viscosity of the creme de violette and the nuttiness of the maraschino:
For 2 drinks:
3 ounces gin
1 ounce maraschino liqueur
1 ounce lemon juice
4 teaspoons creme de violette
We tripled that for this batch of 6 cocktails.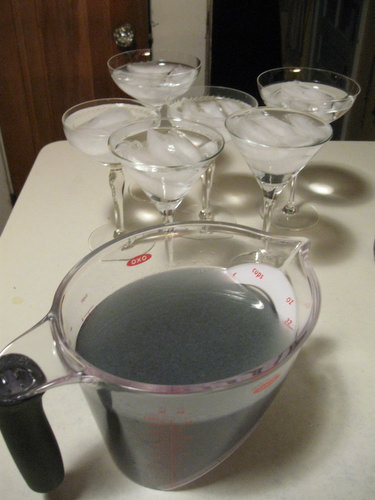 Combine all in a cocktail shaker with ice. Shake vigorously and strain into a chilled cocktail glass. Garnish with a maraschino cherry. Or two.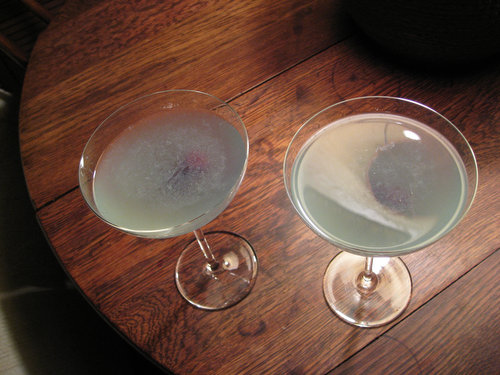 Last summer, I made my own maraschino cherries. (I know. Please don't make fun of me.) But if you didn't think ahead during sour cherry season, or you're just not as obsessed as I am, may I recommend you get Morello cherries, which are far superior to the bright-red (is that Red Dye No. 2 or 4?) maraschino cherries you get at the grocery store.
Although, I used to love in Shirley Temples as a child. Hmm. I guess the cocktail obsession started early. Cheers!