If I told you there was an excellent steak at Benjamin Steakhouse in Hartsdale, you probably wouldn't be surprised. The owners,Benjamin Prelvukaj and chef Artruo McLeod, are alums of Peter Luger in Brooklyn. But what would you say if I told you there was an excellent cocktail at Benjamin Steakhouse? Would you be surprised then? Well don't be. The Benjamin Cocktail, a twist on the sidecar, is excellent — and well worth ordering.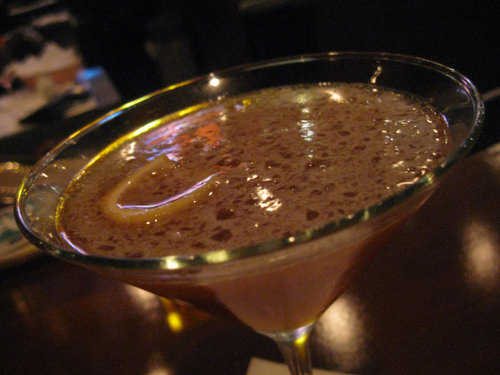 More pics of sips, snacks and the scene, after the jump.
The Benjamin Cocktail is made with 3 parts Remy XO cognac, a drop each of Grand Marnier and lemon juice and a dash of Amaro Montenegro — a bitter Italian liqueur.
Owner, Benjamin Prelvukaj, who is from Montenegro, created the cocktail. It has the sultriness of a sidecar, the bitterness you expect from an Italian liqueur and it warms you up like a good brandy should.
Prelukaj says it's  best served as an after dinner drink — and that may be true, but I think it would be great any time. In fact, I declare it my new favorite winter cocktail.
He also says the drink is masculine in nature so it suits the Steakhouse atmosphere. (I'm not sure what that says about my fondness for it.)
The list includes some other sophisticated — that is to say, not so sweet — drinks, too, such as the Negroni and the Vepser.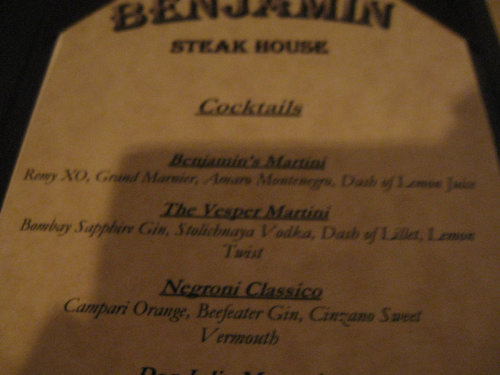 My friend decided on a cosmo. It was very well balanced indeed.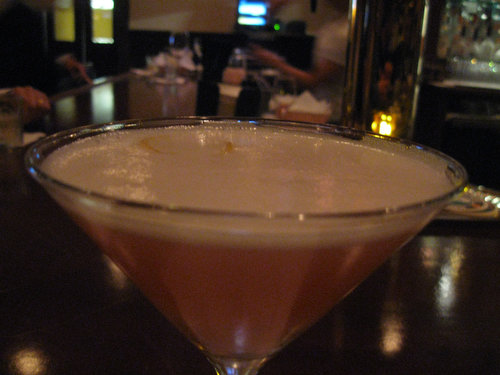 A look at the bar area: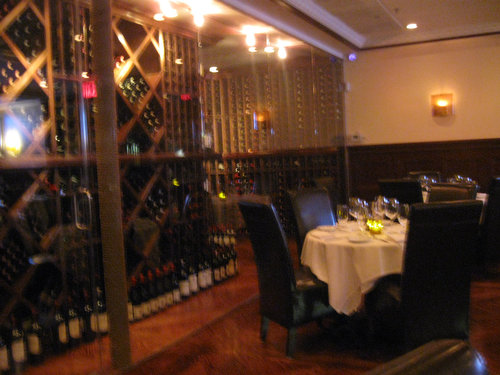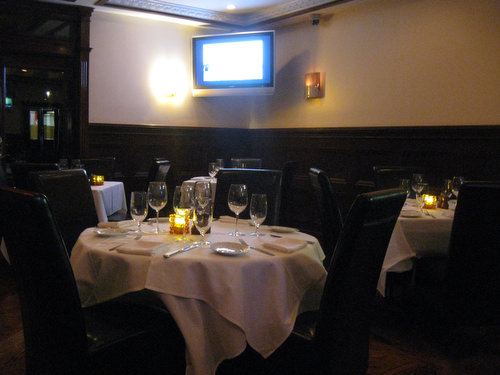 We tried what might be considered a litmus test appetizer for any steakhouse — the shrimp cocktail: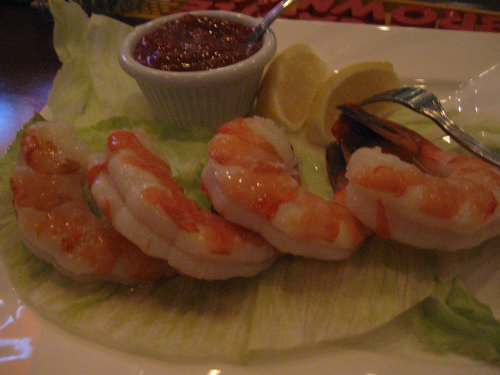 It was cold and the shrimp snapped with freshness. The cocktail sauce had a nice kick, too.
We split the dish, and even though we were sitting at the bar, the waiter did the old fork-and-spoon trick to serve it to us.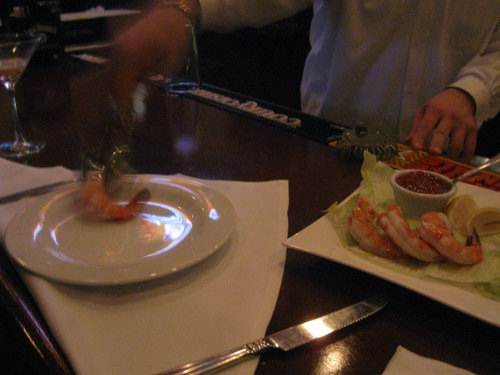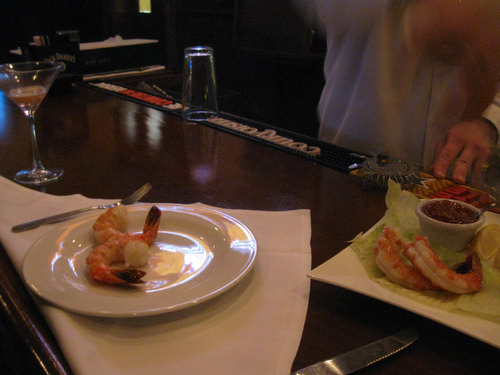 After that, we should have ordered a steak. After all, we're at a steakhouse. But we were just catching up over a drink, so we went for the "Hot Tasting Platter," ($33.95)  which includes baked clams, mini-crab cakes, tuna sliders and mini "Benjamin Burgers."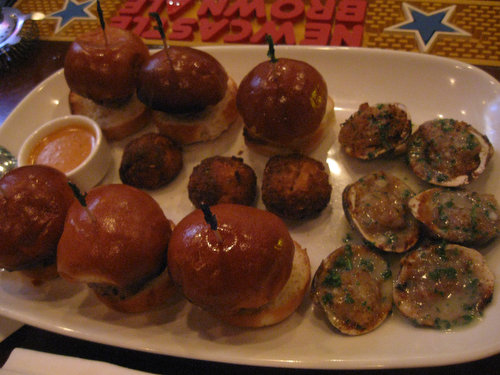 The clams were excellent. Fresh, with an herb-breadcrumb topping that complemented rather than overtook the flavor.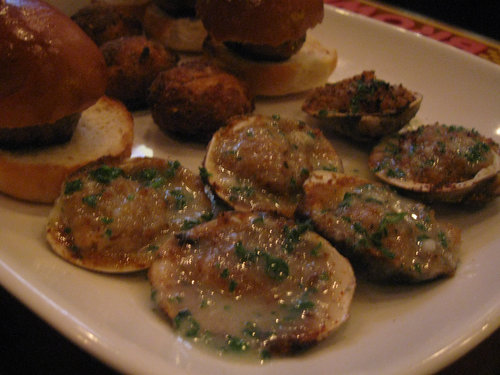 Unfortunately, the rest of the platter was overcooked. With the crab cakes, it was just the outer layer that was too crisp. But both kinds of burgers were quite dry.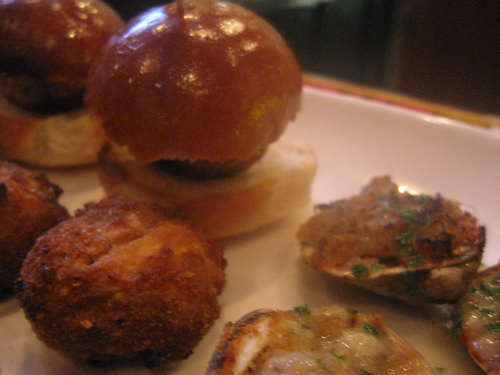 This was our fault, partly. Why would you go to a steakhouse and not get a steak? All these people in the dining room were getting steaks!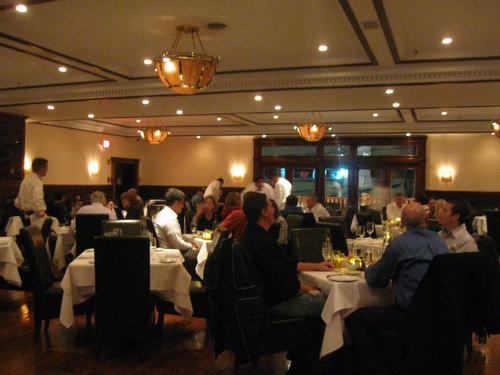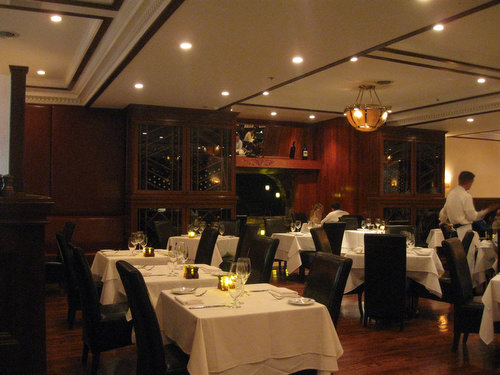 So I will have to wait until we sit in the dining room to know whether Benjamin has an excellent steak. For now, after sitting at the bar —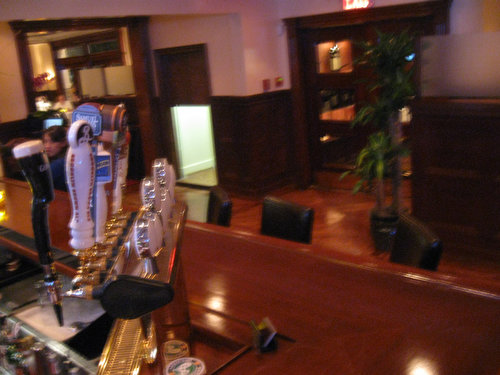 — I can tell you: Benjamin has an excellent cocktail, whether shrimp or signature.
The 411 on Benjamin Steakhouse is coming. Til then: 680 W. Hartsdale Ave., Hartsdale. 914-428-6868. benjaminsteakhouse.com.
Here is a PDF of the Benjamin bar menu.
The restaurant is open on Christmas Day.