I have my friend Meredith to thank for introducing me to this great recipe for baba au rhum. It was a cold New Year's Day weekend at her house in 2008-9, where we made cassoulet and watched movies and baked. All weekend. After the cassoulet, Meredith served this cake, which she made in a loaf pan rather than the special mold-pan it's meant to be baked in. The innovation was genius, and I still use it today.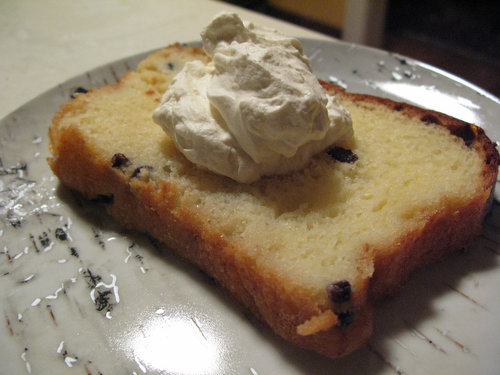 The recipe is perfect for a snowy winter's day, especially if you're home all day, supervising children that should otherwise be in school. Because the by the time they finally go to bed tonight and you get a chance to enjoy the fruits of your labor, you're going to be really happy this cake is full of rum. Happy baking!
Mise en place: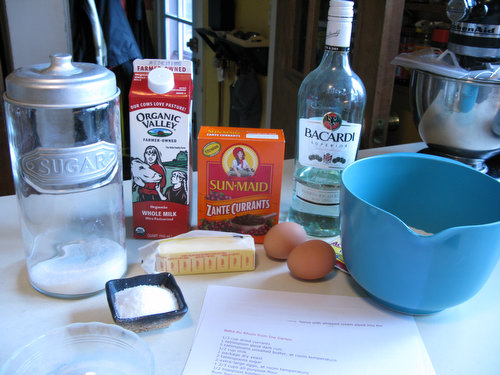 Except I remembered afterward I took this photo that the recipe calls for "good dark" rum, so I used someBabancourt that our neighbor Andre brought us back from Haiti. Yum! I also like using Kaluha Fusion Rum for this recipe, because it's infused with citrus and it's nice with the currants and cream.
So the first thing you do for your baba is soak the currants in rum. The recipe calls for a tablespoon, but I just cover all the currants with rum and let 'em rip.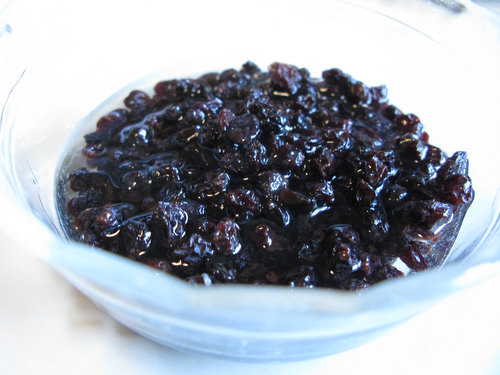 Then you put the milk on to heat.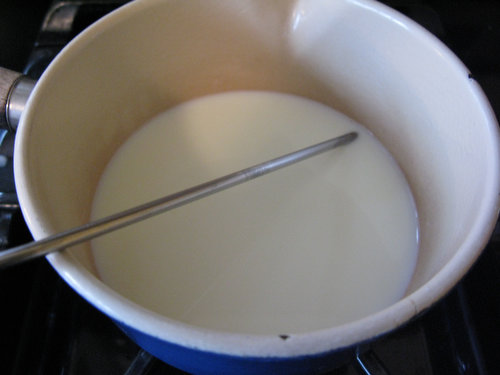 It needs to get to 115.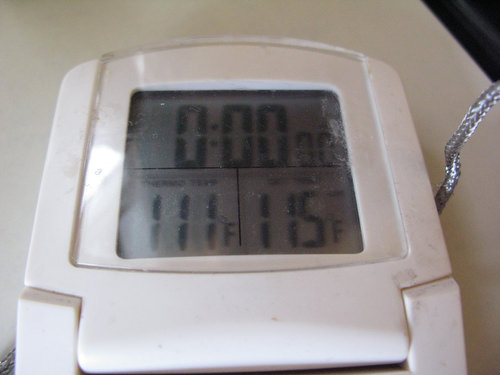 Then you combine the milk with the yeast and sugar in the bottom of a mixer bowl and let the yeast bloom. I forgot to take a photo of that this time, but here's one from last winter: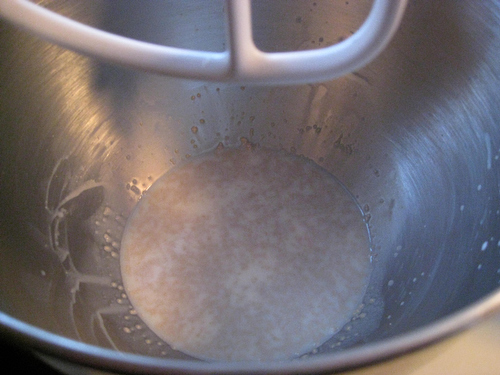 Then you add eggs and flour: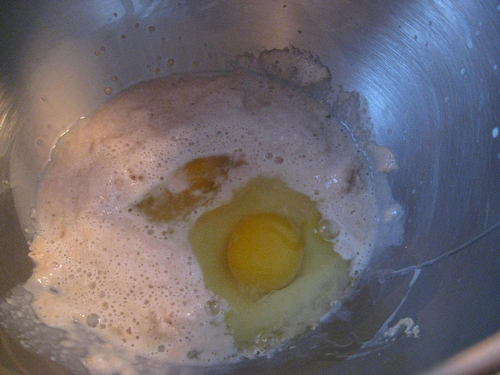 And butter.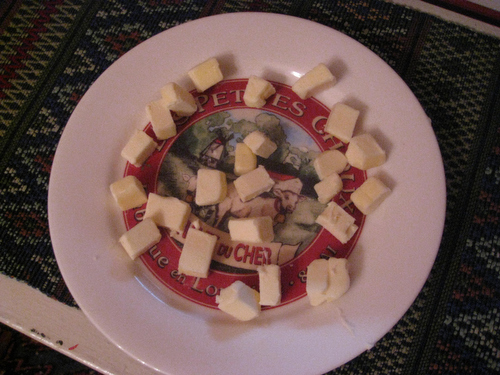 Beat the batter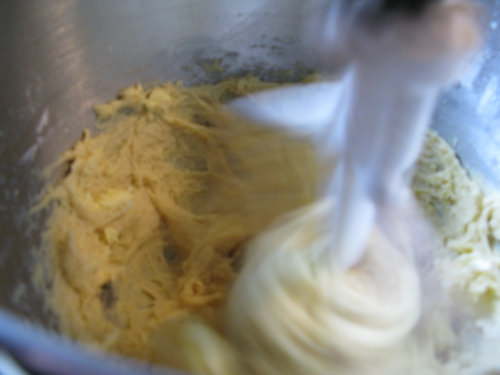 Scrape down the bowl —
And let it rise until it's doubled in size. I like to put it on my radiator in the winter. It takes about an hour.
Now it's nice and fluffy. Drain your currants * you can drink the rum if you want to * and add them to the risen dough: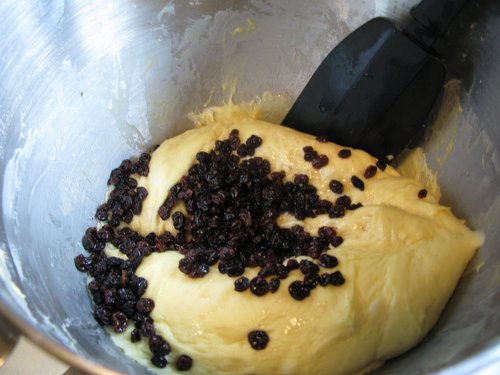 Mix and then move to your buttered loaf pan. (This photo is also from last year):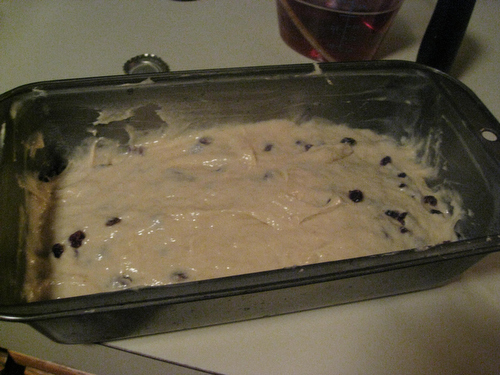 Wait another hour until it's doubled in size again: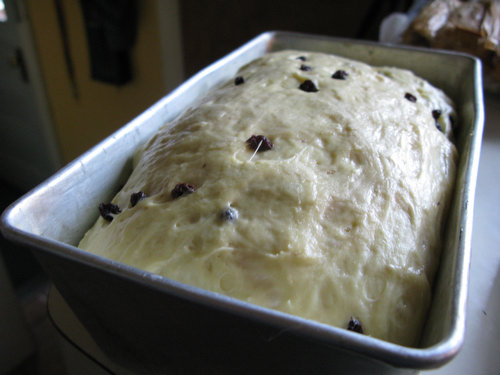 Bake for about 30 minutes. Meanwhile, make the rum syrup, which is really simple syrup with rum added.
This is a tad overdone, but just barely. It's brown when it should be golden brown: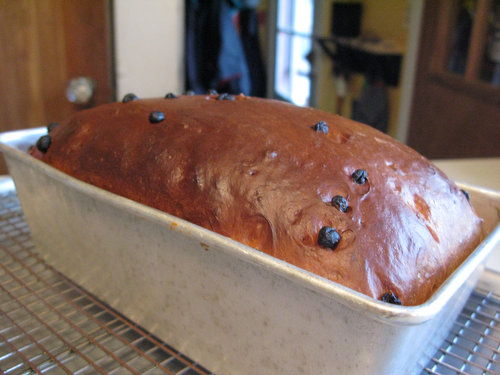 Let it rest for 10 minutes and then turn it out onto a rack. Slowly pour your rum syrup into the cake. I find this easiest to do when it's upside down: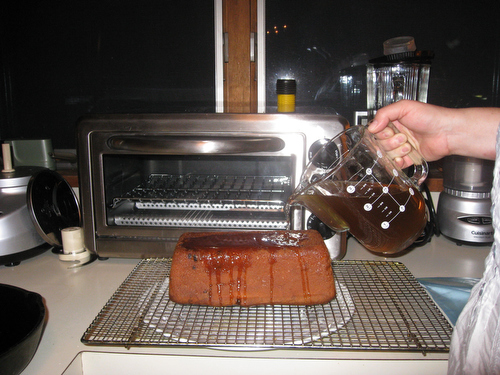 You may also need to take breaks inbetween to let the syrup absorb. But it will absorb.
Then just before serving, whip some cream with a little powdered sugar and vanilla. Slice the cake and give it a dollop of whipped cream: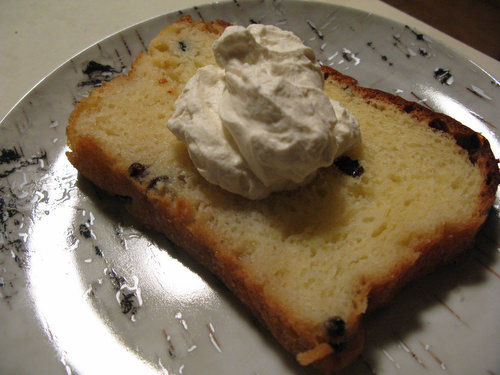 Yum! What a great winter dessert.
Baba Au Rhum
adapted from Ina Garten
1/3 cup dried currants
Good dark rum
4 tablespoons unsalted butter, cut into pieces, at room temperature
1/2 cup milk
1 package dry yeast
2 tablespoons sugar
2 extra-large eggs, at room temperature
1 2/3 cups all-purpose flour
1/2 teaspoon kosher salt
Rum Syrup, recipe follows
Whipped Cream, recipe follows
Cover the currants with rum in a small bowl and set aside. Butter a loaf  pan and set aside. Heat the milk to 115 degrees F and then pour it into the bowl of an electric mixer fitted with the paddle attachment. Stir in the yeast and sugar and allow to sit for 5 minutes.
With the mixer on low speed, first add the eggs, then the flour, salt and butter. Raise the speed to medium-high and beat for 5 minutes. Scrape down the bowl and beater to form the dough into a ball. It will be very soft. Cover the bowl with a damp towel and allow it to rise until doubled in size, about 1 hour.
Drain the currants, fold them into the dough with a spatula, and spoon into the prepared pan. Smooth the top, cover the pan with a damp towel, and allow to rise until the dough reaches the top of the pan, 50 minutes to 1 hour.
Meanwhile, preheat the oven to 375 degrees F and make the rum syrup.
Bake the cake for about 25 minutes, or until a toothpick comes out clean. Allow to cool for 10 minutes, then tap it out of the pan onto a baking rack set over a sheet pan. Pour all of the rum syrup very slowly onto the warm cake, allowing it all to soak in thoroughly. Amazingly, the liquid will be absorbed into the cake, so be sure to use all of the syrup.
Heat the preserves with 1 tablespoon of water until runny, press it through a sieve, and brush it on the cake. Serve with whipped cream piped into the middle of the cake plus an extra bowl on the side.
Rum Syrup:
1 cup sugar
2/3 cup good dark rum
1/2 teaspoon pure vanilla extract
Place the sugar and 1 1/2 cups water in a small saucepan and cook over high heat until the sugar dissolves. Pour into a 4-cup heat-proof measuring cup and allow to cool. Add the rum and vanilla and set aside.
Whipped Cream:
2 cups (1 pint) cold heavy cream
2 tablespoons sugar
2 teaspoons pure vanilla extract
Whip the cream in the bowl of an electric mixer fitted with the whisk attachment. When it starts to thicken, add the sugar and vanilla and continue to whip until the cream forms stiff peaks. Don't overbeat, or you'll end up with butter!
Yield: 4 cups.