One of the best things about January is the promise that, at the end of the cold, dark and wintry month, you can look forward to the annual Sausage and Beer Dinner at Blue Hill at Stone Barns. Chef and kitchen director Adam Kaye creates a menu of stuffed, cured and preserved meats to go along with handcrafted local beers, the like of which you'll never see in the refrigerator case of your local supermarket.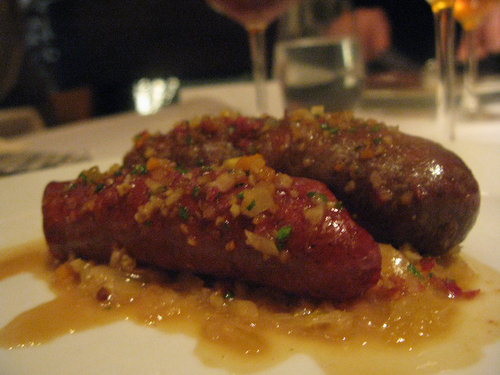 This year, there was a special twist at the dinner: local grains. Each of the brewmasters worked with malt created by Valley Malt in Hadley, Mass., from heirloom grains grown by Lakeview Organic in Penn Yan, N.Y. The dinner showcased five malts (rye, spelt, emmer wheat, triticale, and roasted barley).
This here is a beer served at cocktail hour — Golden Delicious from Captain Lawrence Brewing Co. It's owner and brewmaster Scott Vaccarro's Liquid Gold, aged in applejack barrels from Laird & Co in Scobeyville, N.J.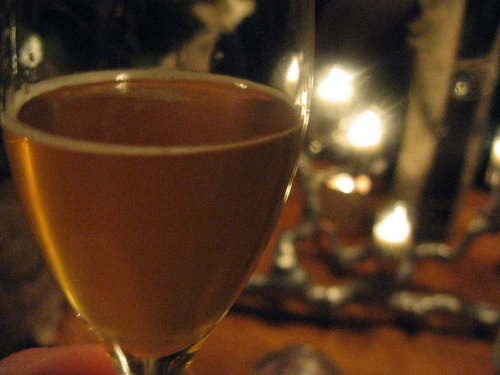 Blue Hill in Manhattan and Blue Hill at Stone Barns have been working with Lakeview Organics — which grows corn, soybeans, small grains (wheat, spelt, barley, oats, triticale), field peas, winter peas, dark red kidney beans, edamame soybeans and more — for four years, and have experimented with the grains in the kitchen and for breads. Soon, they will be producing a whiskey from it, too.
But this was the first time the brewers had used the grains. Kelly Taylor — one half of the husband-and-wife team that owns Kelso of Brooklyn — told me that when he teamed up with Valley Malt, he hadn't even heard of tritacale, which is a hybrid of rye and wheat. But he turned out a gorgeous smoked triticale lager that paired beautifully with Adam Kaye's blood sausage with potato soup.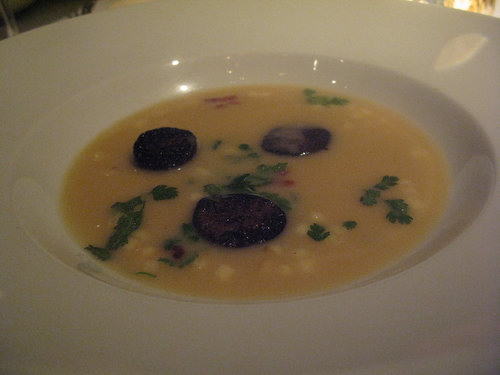 Each year, the layout for the Sausage & Beer Dinner changes just a little. Here's a look back over the years:
• 2010: The fifth annual Sausage & Beer Dinner; here's a link to the coverage — the cocktails were held in the first floor of the Hay Loft and the dinner was at round tables on the second floor of the Hay Loft.
• 2009: The fourth annual Sausage & Beer dinner; here's a link to that coverage. Same setup.
• 2008: The third annual Sausage & Beer Dinner; once again, here's a link to that — the cocktails were in the Hay Loft, but the dinner was in the restaurant.
This year, it was reversed again. Cocktails were in the restaurant —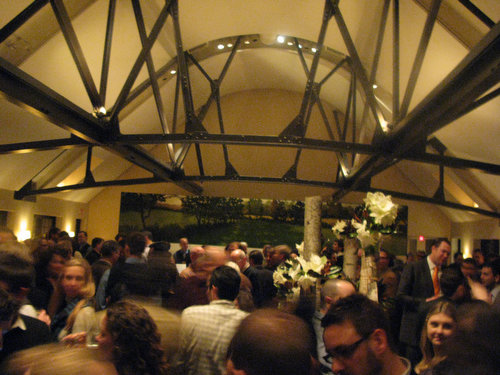 — and dinner was in the Hay Loft.
Hors d'oeuvres were passed.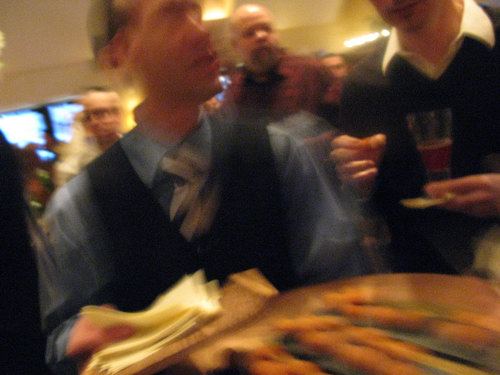 A liverwurst crostini: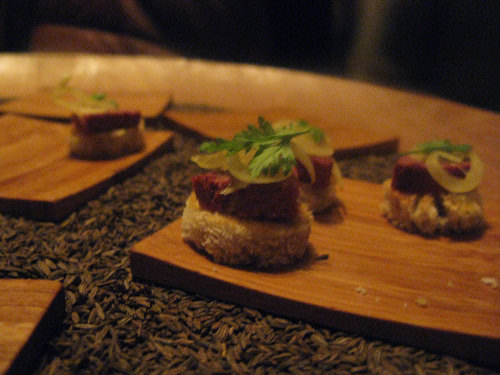 Pork liver and chocolate: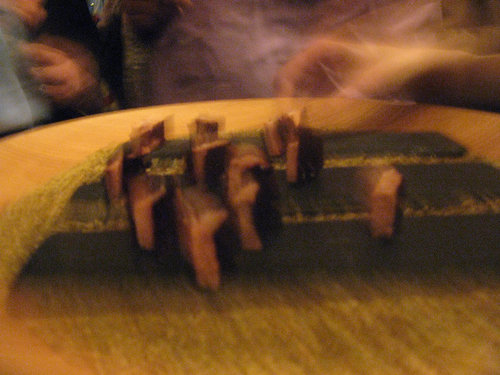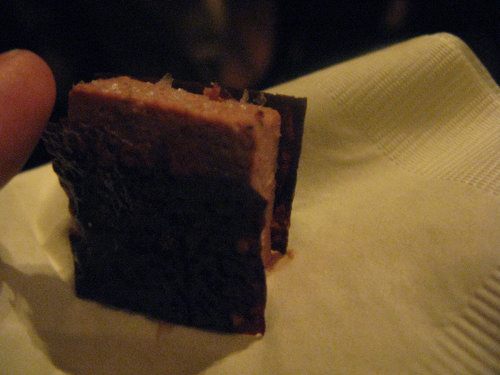 Pigs in blankets: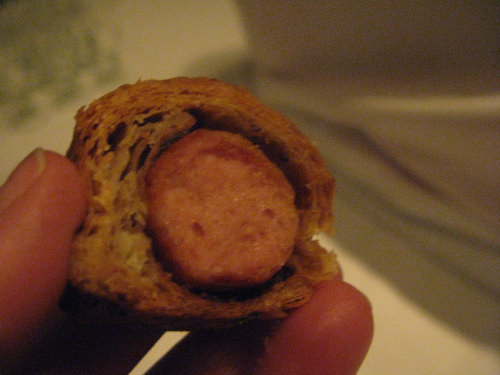 Other scenes from cocktail hour: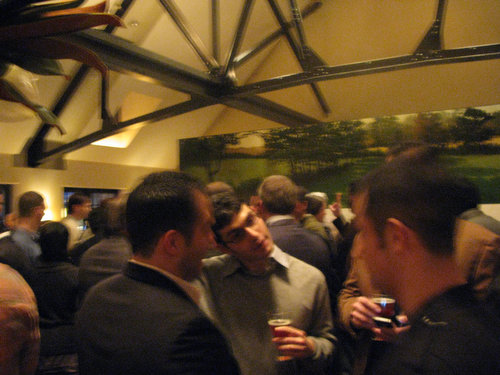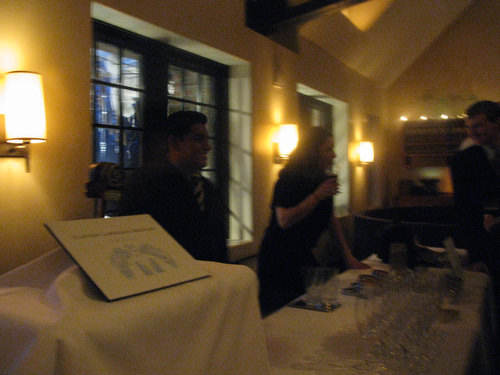 A beer called "Deep Purple" from Empire Brewing Comapany in Armory Square in Syracuse. It's a wheat beer made with local concord grapes. It was terrific!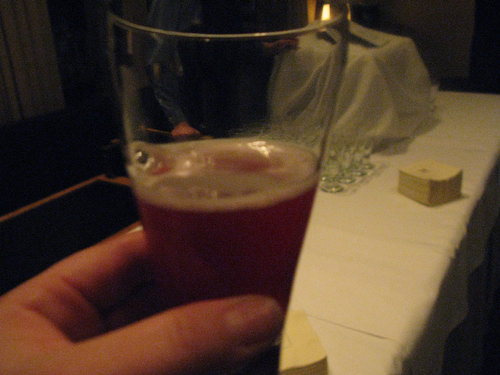 After cocktail hour, we headed up to the Hay Loft for the dinner itself.
The evening's menu: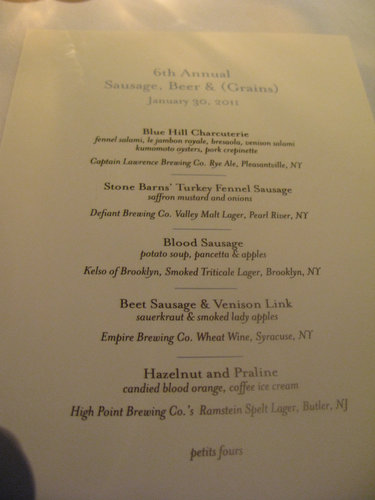 The first served were these oysters and pork crepinettes: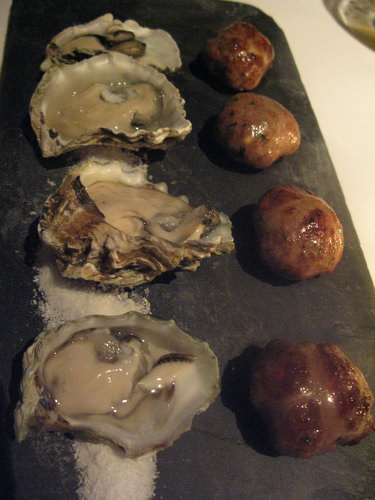 Crepinette are usually wrapped in caul fat and then sauteed in butter and bread crumbs. It was light and airy but rich and buttery, all at once. The oyster was kumomoto, and it was briny and delicious: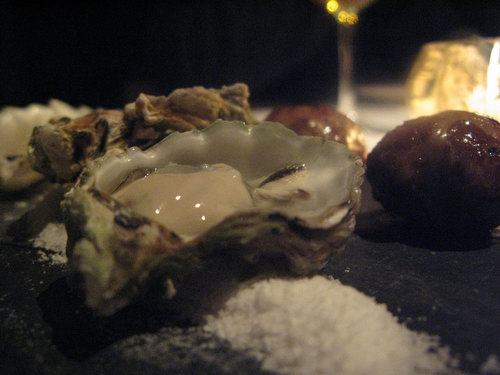 Other cured sausages and charcuterie came next: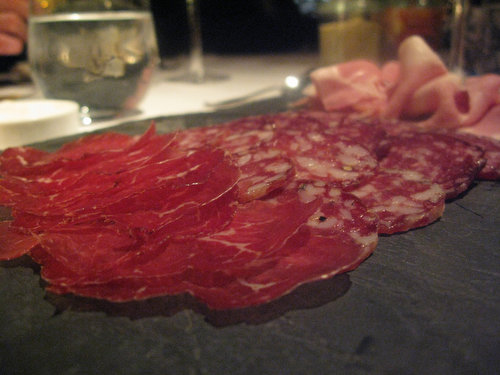 Bresaola, fennel salami, venison salami and jambon royale: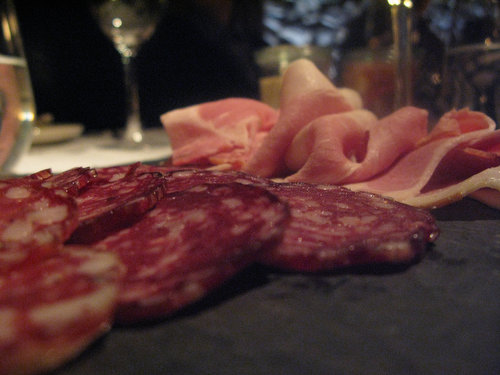 Along with housemade pickles and mustard: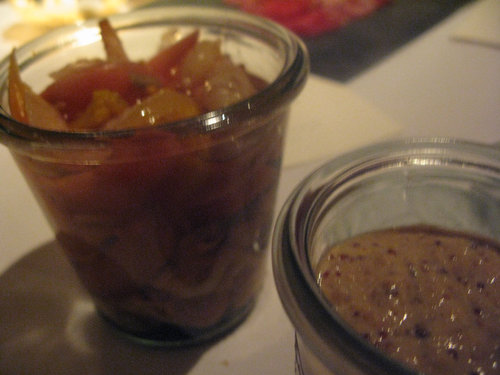 The first hot course was the turkey fennel sausage with saffron mustard and onions, paired with Valley Malt Lager from Defiant Brewing Company of Pearl River.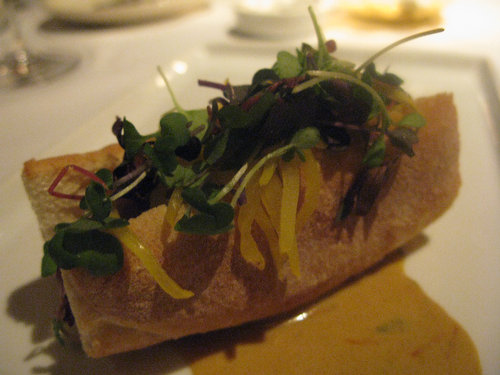 It was served like a little hot dog. The texture was juicy and the taste was subtle. The saffron brought sweetness.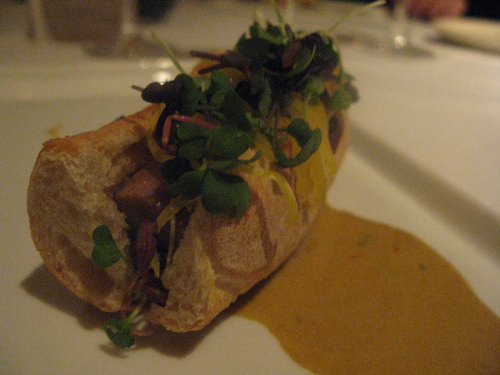 Next, we had the blood sausage in potato soup with pancetta and apples, paired with a Smoked Triticale Lager by Kelso of Brooklyn.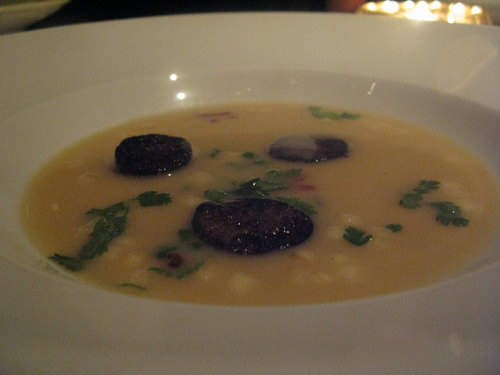 The soup was thick and rich, but had this lovely little vinegar finish on it. The blood sausage melted in your mouth as fast as cotton candy. Incredible.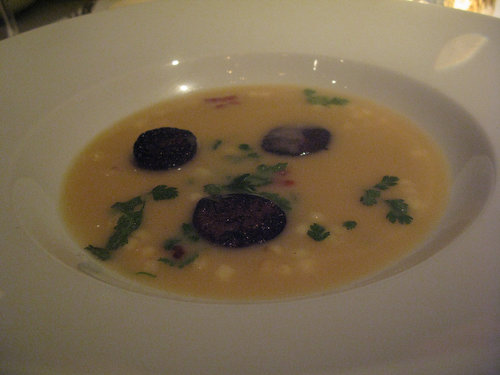 Our table: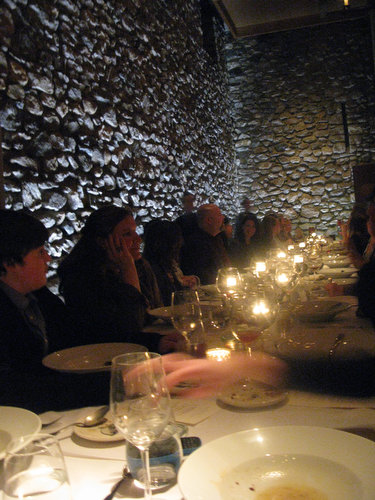 For our final savory course, a work of genius: beet sausage, front: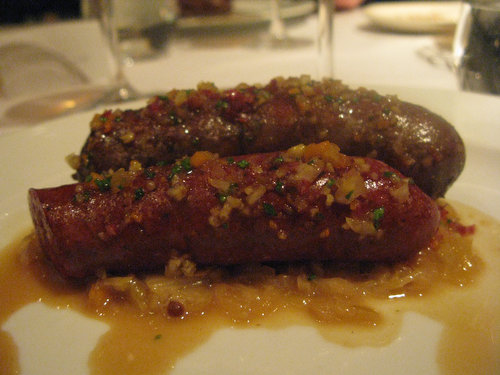 It was our favorite taste all night. We were astonished at how pronounced the beet flavor was, yet the sausage was still meaty and juicy. No, it was not a vegetarian sausage, however. It was made with lard. On the plate was also a venison link with sauerkraut and smoked Lady Apples. The dish was paired with a Wheat Wine from Empire Brewing Co. of Syracuse, N.Y.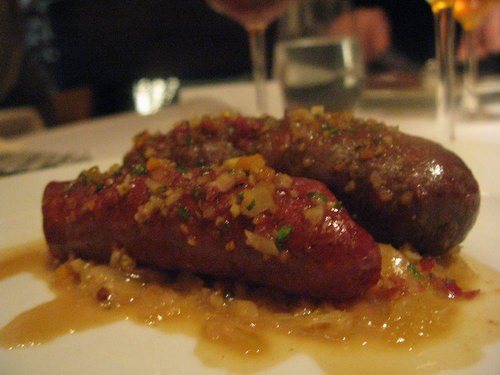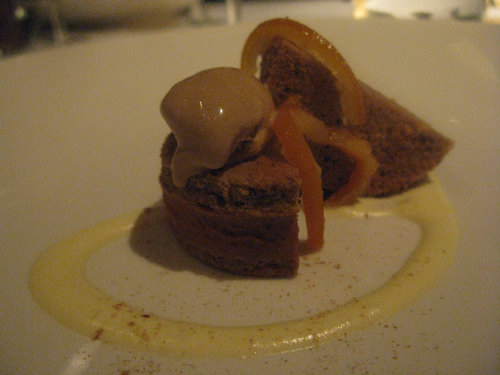 Hazelnut and Parline with candied blood orange and coffee ice cream, paired with High Point Brewing Co. Ramstein Spelt Lager of Butler, N.J.
The dessert was fabulous, and we thought the pairing was the best of the night.
To finish, mignardises: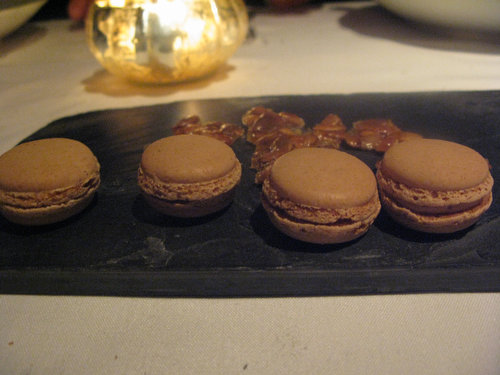 Another fantastic sausage dinner. Could have been the best ever.
Blue Hill at Stone Barns, 630 Bedford Road, Pocantico Hills, NY 10591, 914-366-9600, bluehillstonebarns.com