I am so proud of my thrift. I took the bone from a standing rib roast and turned the bones into stock and the meat into an ingredient in the soup.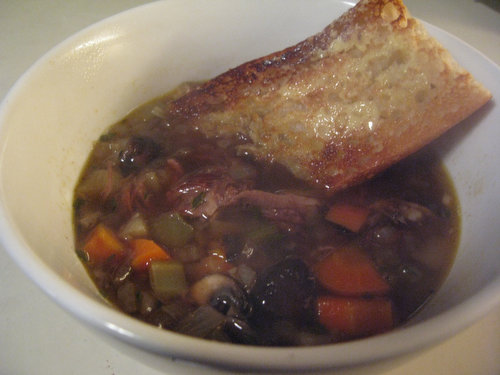 You, of course, can use your own beef stock. Or buy some. But this soup is best made as leftovers from a big beefy dinner. I mean, you can go ahead and cook a steak and cut it up just for this recipe if you want, but I just love how this is an organic next-step. If you spent big bucks on a showy centerpiece meat, this is a great way to stretch your dollar.
The rib roast had 4 bones on it. For the stock, I browned it in the oven for about 20 minutes, then threw it in the pot. The meat, luckily, stayed between and around the bones, and after the stock was done, I picked it off and shredded it with my fingers. I put it in the plastic bag (at noon in the photo) and put the stock out on the porch overnight (you can use the fridge), so the fat would rise to the top.
Next day, I cut up an onion, a carrot, a celery rib, 3 cloves of garlic, a potato and half a box of mushrooms.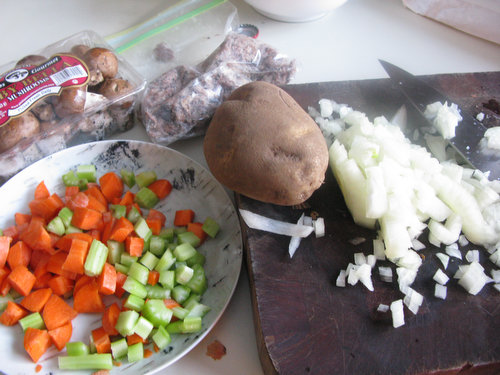 I sauteed the onions, carrot, celery and garlic, the added the broth, with the beef, a potato, a little thyme and half a cup of barley.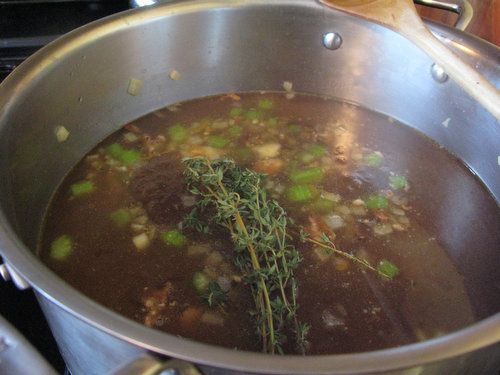 Then I sauteed the mushrooms in a little butter.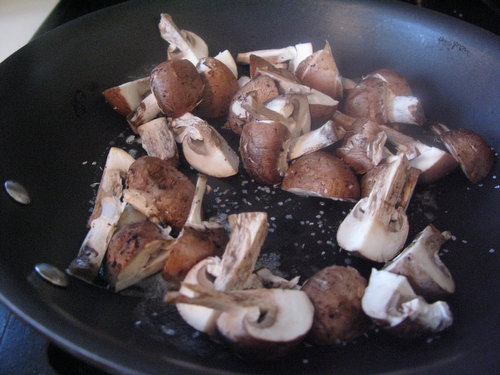 And added them to the pot.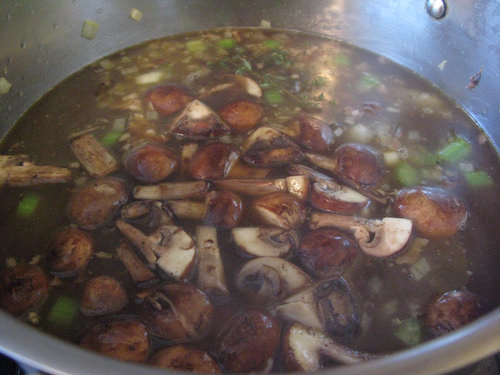 Simmer for about 45 minutes — and voila. The cheapest dinner you've ever loved: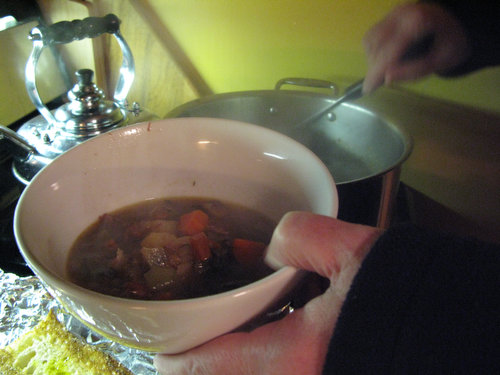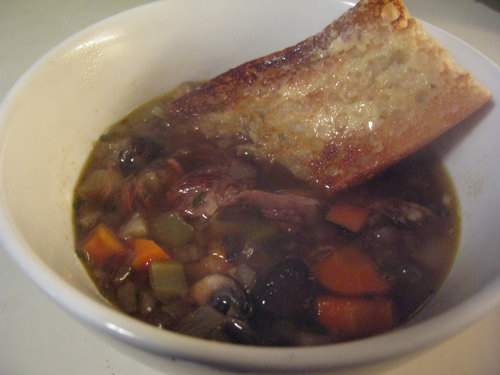 Beef Barley Soup
You can use whatever vegetables you have lying around for this recipe. Don't have a potato? Who cares? Want to add some fennel? Sounds great. Hate mushrooms? Leave them out. This recipe is really best created organically from whatever leftovers you want to use up!
1 onion, diced
1 carrot, roughly chopped
1 celery rib, roughly chopped
3 cloves garlic, minced
2 quarts beef stock (sort of homemade, see below)
1/2 cup barley
1 potato, peeled and roughly chopped into 1/2-inch pieces
1 to 1/2 cups shredded leftover beef
4 to 5 sprigs thyme
1 tablespoon butter
5 ounces button or bella mushrooms, chopped into quarters (equal to the volume of about 1 1/2 cups)
Salt and pepper to taste
In a large stockpot over medium-high heat, saute the olive oil until shimmering, then add onion, carrot and celery. Add a pinch or two of salt. Cook, stirring, until they soften, about 5 to 8 minutes, then add garlic and cook about 1 minute more.
Add beef stock, barley, potato, beef and thyme and stir. Add a little salt and pepper. Turn the heat up to bring the broth to a boil.
Meanwhile, melt the butter over medium heat in small saute pan, and saute the mushrooms until they soften and turn darker, about 4 to 5 minutes. Add the mushrooms to the pot.
After the broth reaches a boil, turn the heat down and allow the soup to simmer, about 45 minutes. Taste for salt and pepper — you might not need it — and serve with toasted baguette slices.
Yield: about 8 servings.
Sort of Homemade Beef Stock
This soup is also great made using leftover bones from beef. Freeze them until you have enough, then roast the bones in a 400 degree oven for about 15 to 20 minutes until they are brown and the fat on the sheet pan is sizzling. Add to your own pre-made or store-bought beef stock and simmer until the meat pulls away from the bones. Use that meat to inform your soup.