I've been making this recipe for a long time, and over the years, I haven't changed the recipe much, except I sometimes make an onion confit beforehand. This time, I caramelized the onions in the pot. I insist on homemade stock, though, no matter how you cook your onions.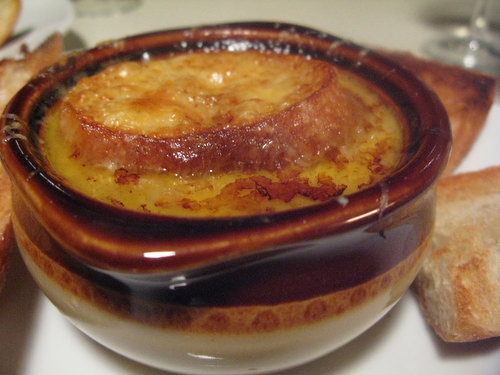 You start with four big onions: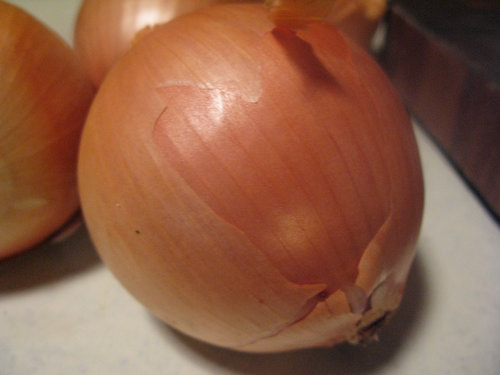 Just chop one nub off, slice a flat part on the bottom so the onion can rest steady on the cutting board, and slice it whole, so you get ringlets. Like so: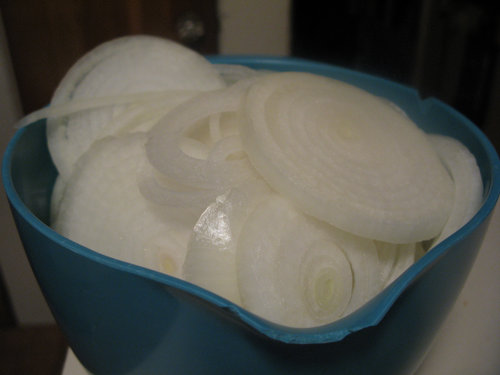 To caramelize onions quickly, heat your pan up real high. Hot pan + sliced onions = head start.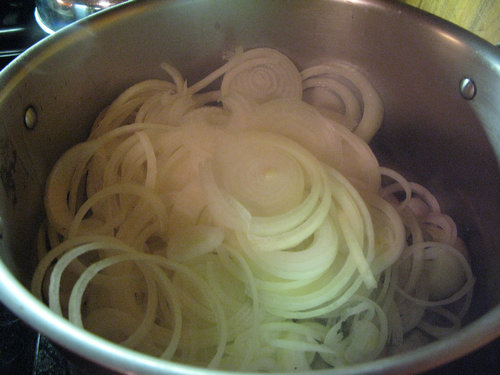 Stir, stir, stir.
Soon enough: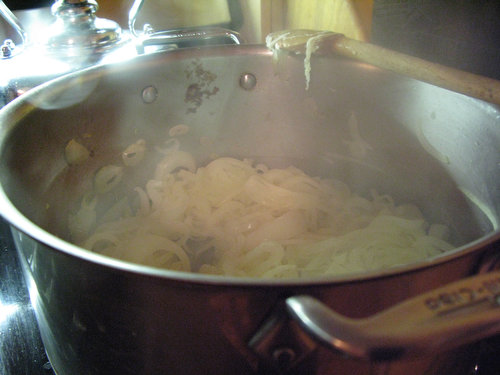 Not soon enough: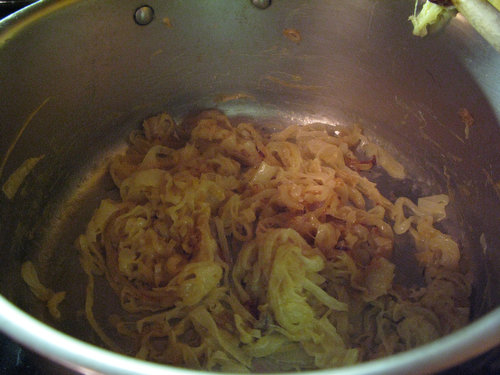 See the trick is to blast them with heat to get rid of the moisture, then let them cook for a while on medium (stirring occasionally), and then slowly let them caramelize. They might need a little blast right at the end to finish up.
Next step in the soup: white wine: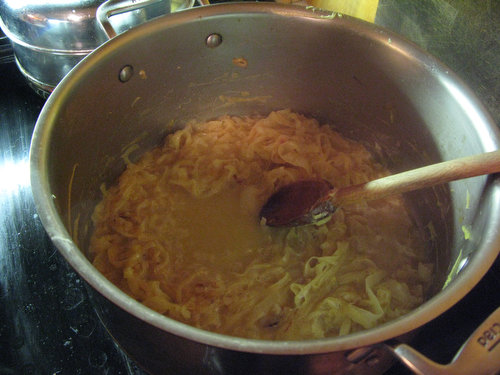 Let it reduce by half. Then add beef stock and a celery rib: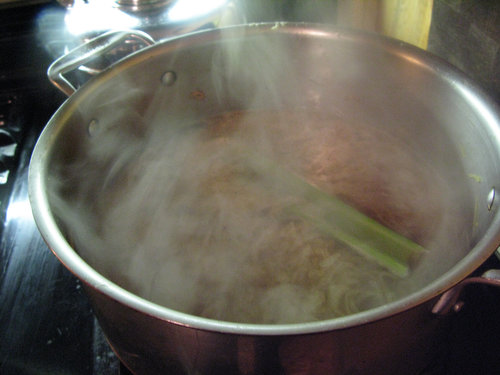 Simmer for a while, about 40 minutes. Or go longer if you are enjoying your cocktail.
Ladle soup into bowls and top with a slice of baguette and some grated Gruyere cheese: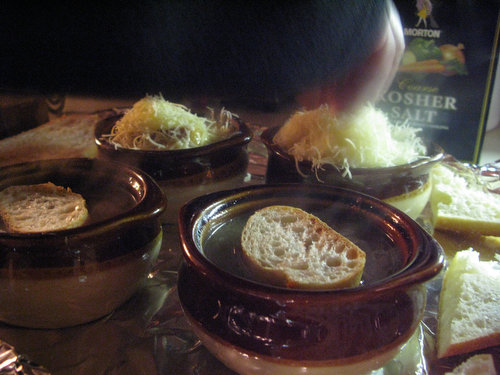 There's an old family joke. My sister and I were in Paris, about to order omelets at a cafe.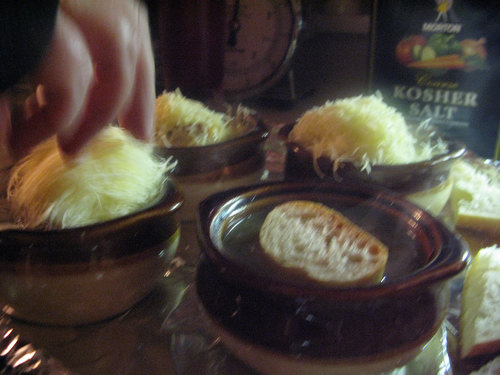 I hadn't cared for the last omelet I'd had in Paris; the cheese was a bit strong for my taste. So, trying out my best French accent, I timidly asked the waiter: "Quel type de fromage est dans l'omelette?" He glared down his nose at me, pen in hand, exasperated.
"Quel type de fromage?" he mimicked — quite meanly, I must add. Then he bellowed: "GRUYERE."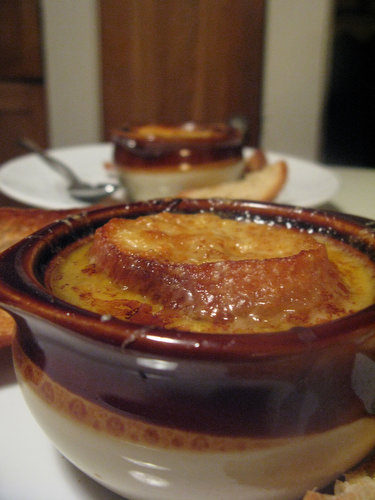 French Onion Soup

A really satisfying soup from some of the simplest of ingredients. Don't leave out the sherry, though — it really makes it.
1 tablespoon olive oil
4 large sweet onions (about 1-1/2 pounds total), thinly sliced
3 tablespoons unsalted butter
1 cup dry white wine
2 quarts beef stock
2 ribs celery with leaves, cut in half
Salt and freshly ground pepper
1/4 cup fino sherry
4 to 6 slices baguette, cut 1/4-inch thick, lightly toasted
1/4 to 1/2 cup coarsely grated Gruyere cheese
Heat olive oil over high heat until almost smoking. Dump in onions all at once. Stir, stir, stir, for about 10 minutes until the onions are about half the size they were. Turn the heat down to medium, add butter, and let onions cook, stirring occasionally, until they caramelize. At the very end, as they're getting browner and browner, turn the heat back up to medium-high. Give them a few stirs until they finally get deep brown.
Add the white wine and cook over medium-high heat until the wine reduces to about half, about 5 minutes. Add the stock, celery and salt and pepper and bring the liquid to a boil over high heat. Reduce the heat to low, cover partially and allow the soup to simmer until the onions are very tender, about 40 minutes.
Remove and discard the celery. Add the sherry and simmer another 5 minutes.
To serve, preheat the broiler to 400. Ladle the soup into individual ovenproof bowls. Top each with 1 slice baguette, sprinkle with 1 tablespoon cheese (or more — I like a lot!), and place the bowls on a cookie sheet lined in foil. Heat near the top of the oven until the cheese melts and bubbles, 5 to 6 minutes. Carefully remove the bowls and serve at once.
Yield: 8 to 12 servings.