The first time I went to Alain's Bistro in Central Nyack, I knew I liked the food, at least what I could taste of it. I was pregnant at the time, and delectable and delicious dishes like salads with runny eggs, pate and foie gras were a no-no. ("No offal!" my doctor told me. Did he realize he was talking to a food writer?!)
This visit, things were different. I went with a big group of people and got to try most everything the menu. We had classic dishes such as mussels, frisee aux lardons, roast chicken, and yes, pate and foie gras terrine. (Yes, we splurged a bit.)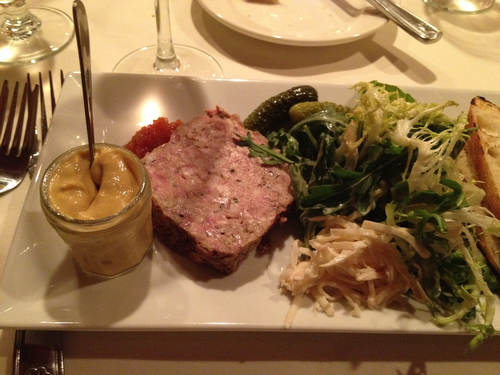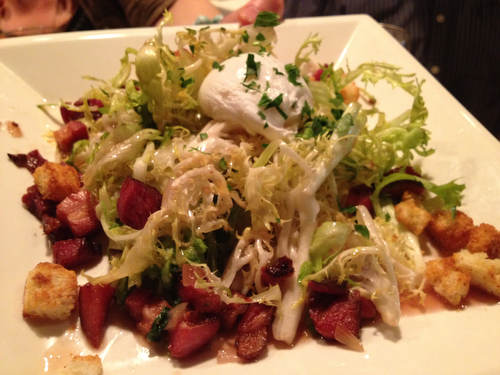 Our visit was well timed, too. Soon, Alain will open Alain's Express, a to-go spot in downtown Nyack where you can get sandwiches, salads and prepared foods to take home for dinner. If the food there is anything like it is at the restaurant, it will be a great addition to Nyack.
For our meal, the food was all good, and mostly great. Alain's is the kind of place you might forget about because it's off the beaten path a bit. But don't. Make a reservation. It's the closest thing we've got to Paris in Rockland County.
Amuse bouche. A little mousse of some kind, if I remember properly. On top of a cucumber.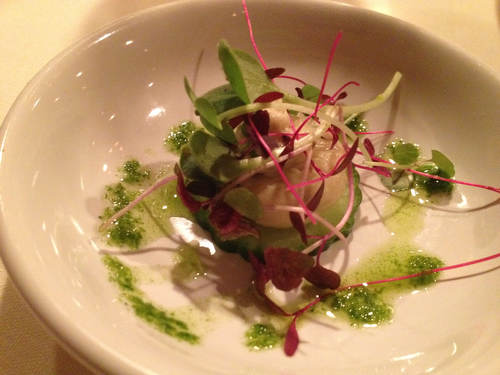 Asparagus soup. Very springy!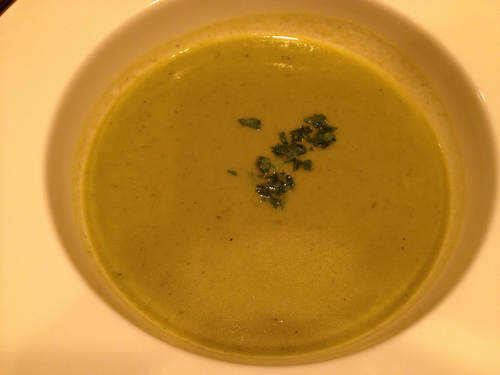 Mussels with chorizo. Very plump and fresh and the sausage was porky and good.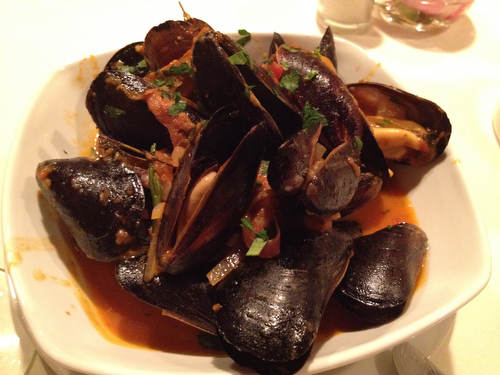 Smoked herring, which was surprisingly very delicious. Everyone said it reminded them of bacon!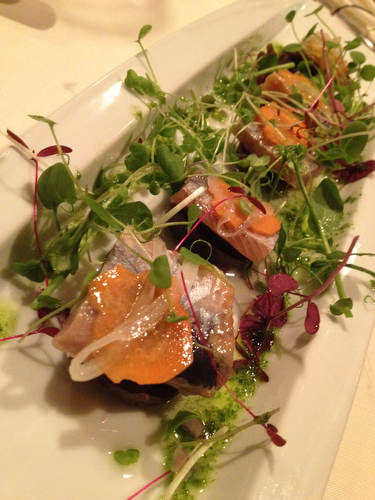 Country pate. Quite delicious.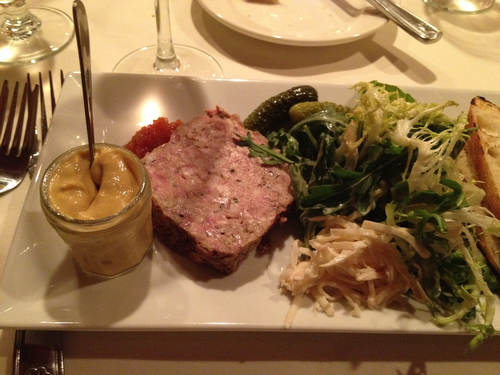 Foie gras terrine. Silky, fatty and yummy.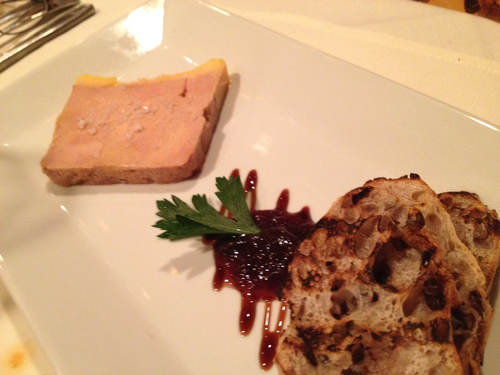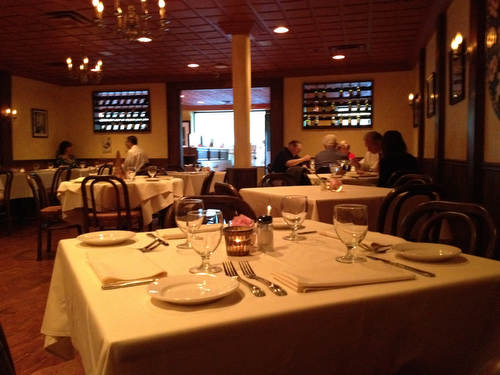 Roast chicken. Crispy, juicy. So good!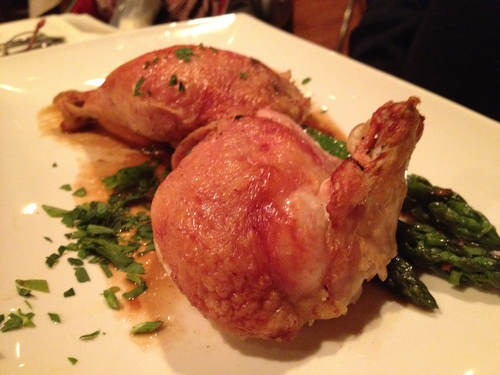 Lamb shank. Very tender and tasty.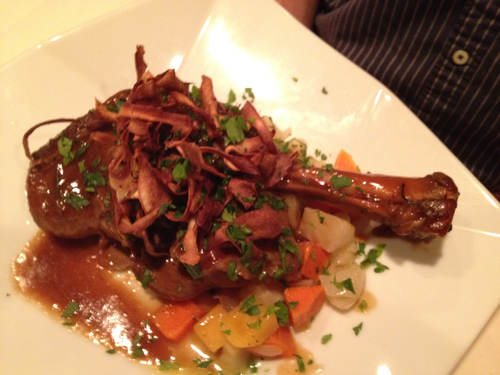 Cassoulet.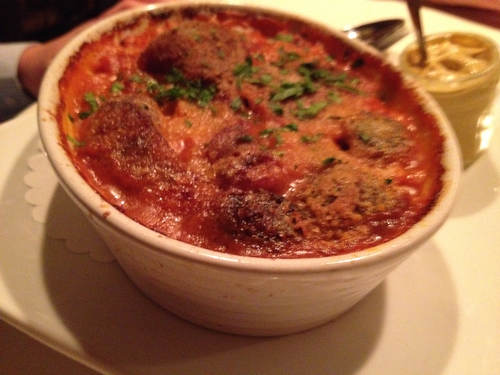 Good but a bit too tomato-y for me.
Steak. Really really good. And a crazy rich blue cheese sauce, too.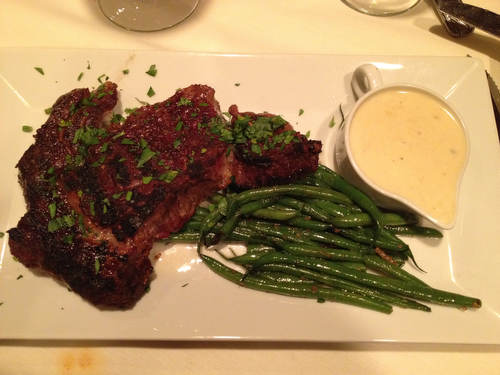 The Alsatian tart with bacon and onion. Sort of like a pizza. Very good!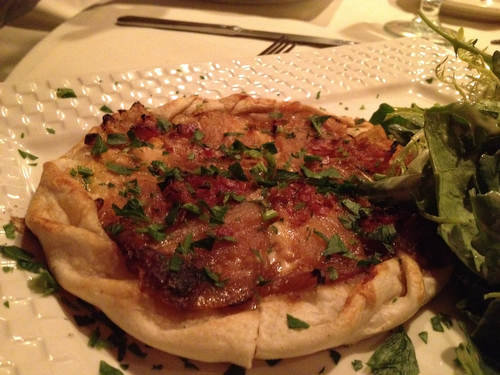 And for dessert, we had a Cafe Liegois, which was a coffee cup made of chocolate and filled with espresso ice cream, espresso and whipped cream. A real treat.
Bravo, Alain's Bistro.
And, as a bonus, here's the link to the Restaurants We Love column on Alain's, which ran in the paper while I was on maternity leave, so didn't get to blog. I think Pete Kramer loves it just as much as I do.