I'm cuckoo for my pressure cooker.  I mean cuckoo. Let me explain.
I am lazy.
There, I said it. I work hard, I volunteer hard and I play hard. I don't want to be bothered with daily cooking.  To overcome this, I cook in bulk, a dedicated two or three hours a week and it's about convenience and speed.
Growing up my mother would bring out the pressure cooker in the summer to can tomatoes. It was the old school type.
She was always nervous and would shoo us out of the house. Canning days were nerve-wracking!
Finally, after reading Operation Pressure Cooker on Choosing Raw, I leaped out of my comfort zone – pushing aside childhood fears – and bought a pressure cooker, which is decidedly more modern.
SOURCE
I fell in love. Hard. A true game-changer, the pressure cooker has forever altered the way I prepare food.
The pressure cooker is fast. Period.  I can make beans in 20 minutes or less–and lentils in four minutes!   I can make a homemade vegetable stock in under 30 minutes (versus hours in a crock pot).  Quinoa is done in minutes. Chili, beans and all, are done in 15 minutes.  Need I say more?
Here are the Top 3 Reasons I Love My Pressure Cooker
1. Eat beans and grains in minutes!
I'm a beans, greens and grains vegan.  And, as I mentioned, I'm a lazy vegan.  That combination could lead to a lot of canned beans and minute-rice but the pressure cooker has saved me from that fate.  This is just a sampling of recipes that I have cooked up fast: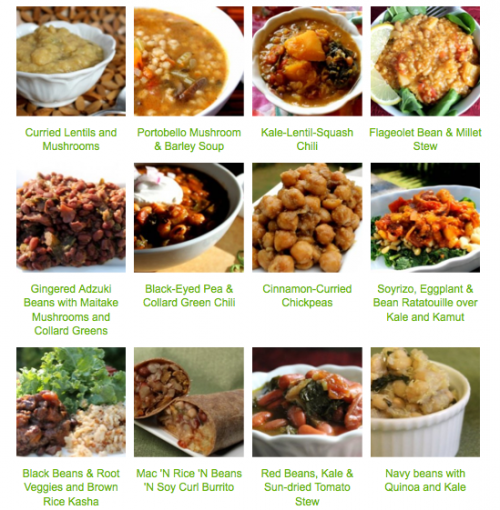 How fast?
Quinoa:  1 minute
Bulgar:  5 minutes
Pearled Barley:  18 minutes
Brown Lentils:  8 minutes
Black-Eyed Peas:  10 minutes
Adzuki Beans:  14 – 20 minutes
Navy Beans:  16 – 20 minutes
Red Kidney Beans: 20 minutes
2. Save money!
A 15 oz can of Eden Organic Black Beans = 1.5 cups of cooked beans.  The cost of 1.5 cups cooked beans (canned) is approximately $2.06 USD.  A 16 oz box of dry Eden Organic Black Beans = 2.25 cups of dry beans.  2.25 cups of dry beans will make  7.5 cups cooked beans. The cost of 1.5 cups cooked beans (dry) is approximately 64¢ USD.  YOU SAVE $1.42 USD!
A 32 oz. carton of Pacific Organic Vegetable Broth = 4 cups.  The cost is approximately $4.29 USD.  I make homemade vegetable broth, cooked up in 10 minutes in the pressure cooker, with vegetable that would have been tossed into the trash.  The cost is minimal,  pennies for whatever spices or seasoning I choose to use, so let's call it FREE.
'Nuff said.
3.  Better nutrition!
Actually, I don't know if that's true. But here are some thoughts on the topic:
The pressure cooker can be an incredibly nutritious method of cooking. Because of its tight-sealing lid, nutrients are trapped inside the cooker within the liquid. This makes the liquid a source of nutrition that may have otherwise been lost with other cooking methods. Also, unlike other high-heat, quick-cooking techniques such as grilling, pressure cooking does not produce carcinogenic compounds. – Food & Nutrition Magazine

In the case of grains and legumes, although the vitamins and heat-sensitive vitamins and phytonutrients are vulnerable to deterioration, the net result of pressure-cooking is a positive nutritional gain—from the increased digestibility of the macronutrients (protein, fiber and starch) and the increased bioavailability of the essential minerals.- Eating Well Magazine

According to the Nestle professional newsletter, pressure cooking conserves 90-95% of nutrients versus steaming (75-90%) and boiling (40-65%) – Laura, HipPressureCooking.com
This is what I know:  If I didn't have a pressure cooker I would not be consuming  such a wide variety of nutrients found in beans, legumes, and grains.
Interested in learning more?
I Eat Plants columnist JL Fields blogs about her transition to a vegan diet and lifestyle at JL goes Vegan: Food & Fitness with a Side of Kale. Her original recipes have been featured on Foodbuzz, BlogHer and Meatless Monday. She is the editor of the community blog Stop Chasing Skinny: Find Happiness Beyond the Scale.   JL is the founder and lead consultant for JL Fields Consulting.  She serves on the board of directors of the Woodstock Farm Animal Sanctuary and the advisory board of Our Hen House.  Follow JL on Twitter and Facebook.