Did you hear? Vegan.com and Bryanna Clark Grogan rocked the vegan culinary world when they unveiled Bryanna's Homemade Palm-Oil Free Vegan Buttery Spread. The funny thing is, I have had a recipe saved since last month; I was listening to an Our Hen House podcast where Jasmin Singer talked about a homemade vegan butter that she used for a cookie recipe. I emailed her immediately and she hunted down the recipe: How to Make Vegan Butter.
It's a small vegan world! It turns out that this recipe by Mattie on VeganBaking.net is what Bryanna based her new, buttery spread recipe upon. Mattie uses coconut oil and Bryanna uses cocoa butter. Both use soy lecithin but Mattie's recipe offered granule or liquid options and Bryanna's recipe only liquid. I had coconut oil + soy lecithin granules in the cupboard so I knew which recipe I needed to use!
Why make homemade vegan butter when it's so easy to buy at the store?
One word: orangutans.
Most people who identify as "vegan" avoid eating, wearing or using animal by-products. Others go a step further and shun plant-based foods in which animals were harmed in the process.  Please take a moment to watch this beautiful video, which introduces you to orangutans, describes the impact of palm oil production on them and the organization that works to help them.
I've been anxious to find a vegan butter option, without palm oil, that is easy to make, melts, and tastes good. I found it: How to Make Vegan Butter.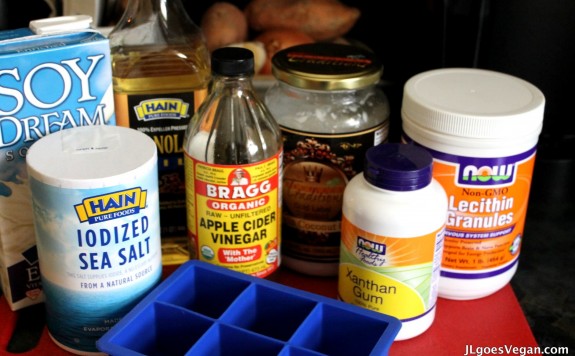 Seven ingredients = homemade vegan butter!
Essentially two steps later and you're pouring a very creamy mixture into a mold.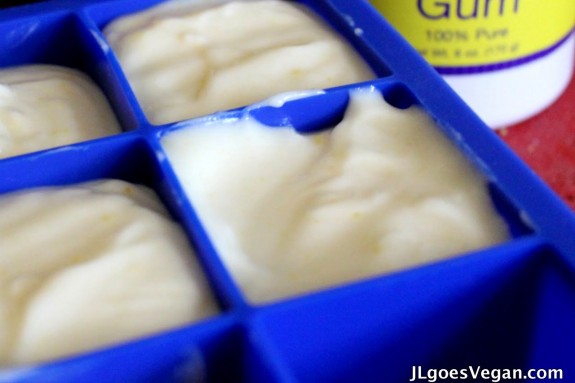 An hour later, out of the freezer.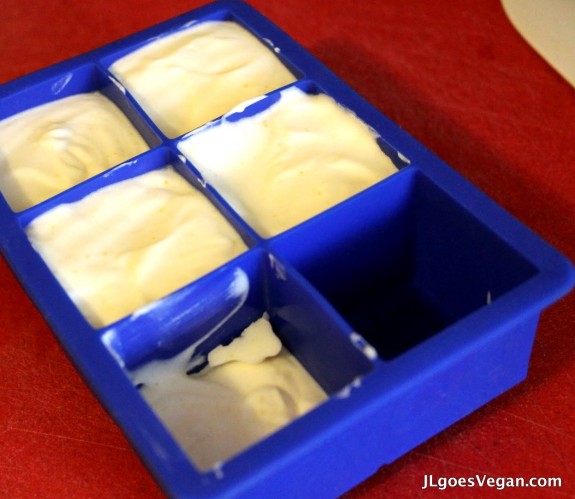 Slides out of the mold easily.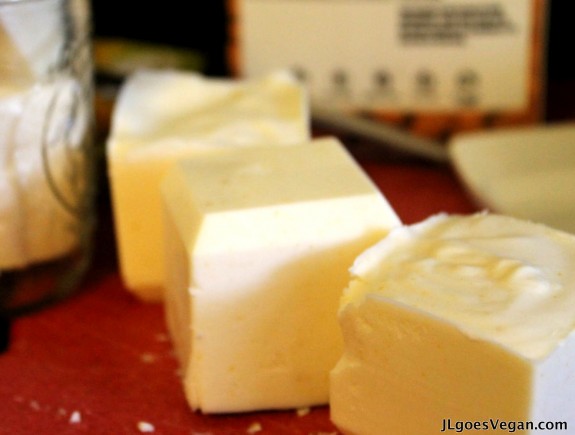 Slices beautifully!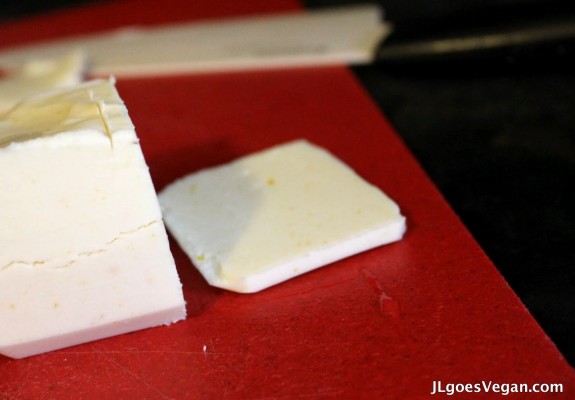 Melts on toast!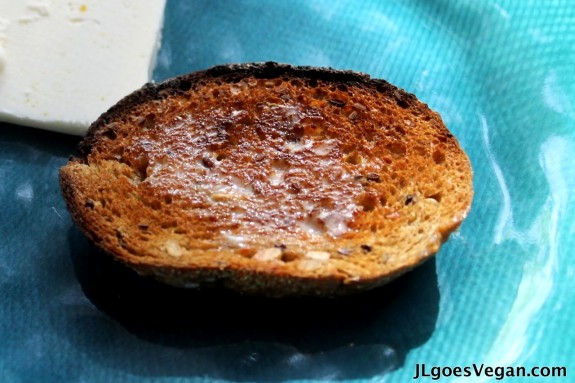 Perfect in mashed sweet potatoes.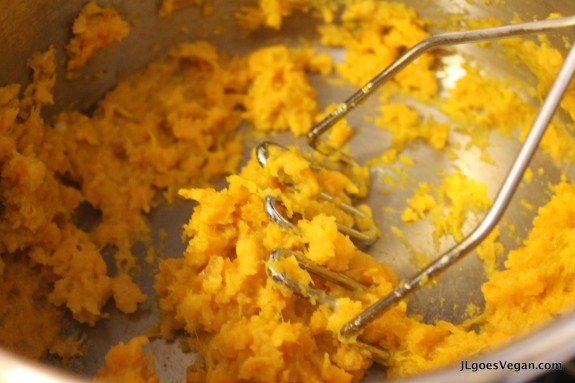 Perfect on mashed sweet potatoes.
Pressure Cooker Mashed Sweet Potatoes
Ingredients (Serves 2)
1 cup water
2 sweet potatoes
Splash of almond milk (or other non-dairy milk)
Dab of vegan butter (use homemade!)
Pinch of salt
Instructions
Place a steam basket in the pressure cooker and water. Bring water to a boil.
Wash and quarter the sweet potatoes. I left the skin on the potatoes.
Cover the pressure cooker and bring to pressure. Cook at pressure for 6 minutes. Allow for a natural release.
Remove the pressure cooker lid, away from you.
You will see that the skin on the potatoes will peel off with no effort at all.
Add almond milk, salt and vegan butter.
Use a wire potato masher to mash to desired consistency (I like some chunks).
Serve with a slab of vegan butter.
I haven't baked with it yet – because I don't bake all that much! But I have a few things I want to try so I'll keep you posted.
I doubled this recipe and, as Mattie indicates in the recipe notes, you can store this for one month in an air tight container in the refrigerator (or in a plastic bag in the freezer for a year).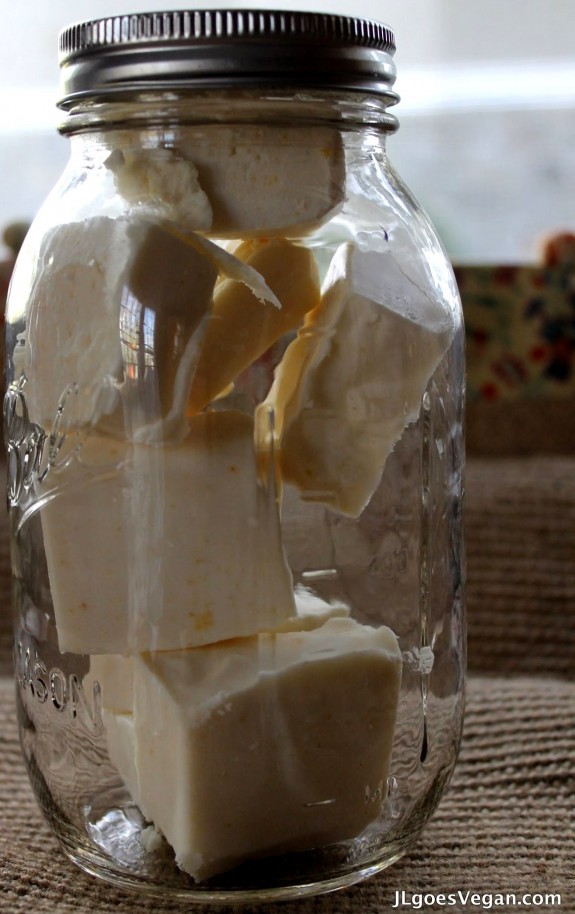 I don't see the need to buy a vegan margarine with palm oil again. This recipe is so quick and delicious.
I Eat Plants columnist JL Fields blogs about her transition to a vegan diet and lifestyle at JL goes Vegan: Food & Fitness with a Side of Kale. Her original recipes have been featured on Foodbuzz, BlogHer and Meatless Monday. She is the editor of the community blog Stop Chasing Skinny: Find Happiness Beyond the Scale.   JL is the founder and lead consultant for JL Fields Consulting.  She serves on the board of directors of the Woodstock Farm Animal Sanctuary and the advisory board of Our Hen House.  Follow JL on Twitter and Facebook.