During the dog days of summer my morning meals are mostly smoothies.  I love a tall, cold liquid breakfast after a hot workout. Recently I wanted all the powerful nutrition of a smoothie but was craving a new texture.
I grabbed my usual smoothie ingredients (frozen fruit/ice, something green, plant-based milk, flax or chia seeds and a date or other natural sweetener) and I simply altered the amounts of each ingredient and suddenly I was eating a beautiful bowl of green "ice cream."  Same great ingredients – completely different mouthfeel experience.
Green Ice Cream
Ingredients (Serves 2)
Spinach (a generous handful)
1 Medjool date, pitted
3 large frozen strawberries
1 frozen banana
1 tablespoon ground flax seeds
1/4 cup soy milk (or preferred plant-based milk)
Ice cubes (just a few)
Instructions
Add all ingredients, in order listed, to a high-speed blender.
Blend for just a few minutes, to desired ice cream consistency.
Serve and enjoy!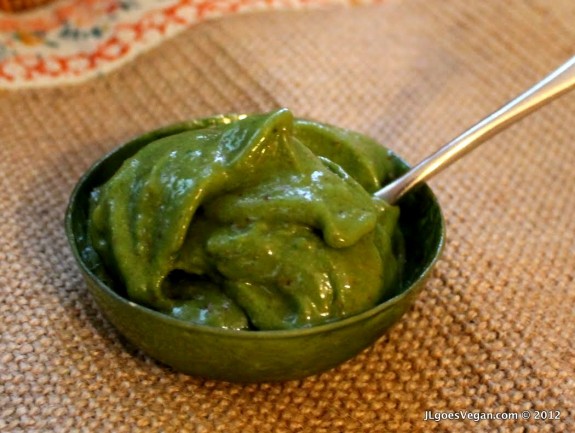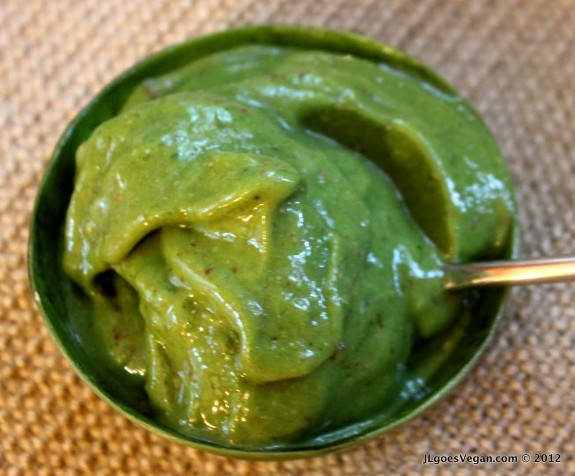 This "ice cream" is smooth, filling and packed with nutritious flavor. You can enjoy it for breakfast — or after dinner on a hot summer evening!
I Eat Plants columnist JL Fields is a certified vegan lifestyle coach and educator.  She writes about her transition to a vegan diet and lifestyle at JL goes Vegan: Food & Fitness with a Side of Kale. Her original recipes have been featured on Foodbuzz, BlogHer and Meatless Monday. She is the editor of the community blog Stop Chasing Skinny: Find Happiness Beyond the Scale.   JL is the founder and lead consultant for JL Fields Consulting.  She serves on the board of directors of the Woodstock Farm Animal Sanctuary and the advisory board of Our Hen House.  Follow JL on Twitter and Facebook.