Coconut-Ginger infused what?!
Don't let the title of this recipe fool you. Yes, I created my first variation of a black bean brownie recipe. No, they don't exactly taste like coconut or ginger. Yes, they are light, chocolatey and delicious. No, they do not taste like beans.
Why?
Because I cooked the beans in coconut milk and I used a decadent, delicious dark chocolate, with a hint of ginger, in the mix
Here it is folks – the secret:
You must make your beans from scratch.
You must make them with coconut milk, not water.
I decided to make homemade beans in my pressure cooker. I cooked them up in coconut milk and date syrup and oh, my the subtle, sweet smell in the house was a sure sign these brownies were going to work. Don't have a pressure cooker? Then make homemade beans on the stove top:
Let the beans soak.At a minimum, let the beans set for two hours; at most, overnight.
(Optional) Rinse and drain the beans again.After the beans have finished soaking, many people like to rinse them in a colander again before cooking them. [JL's note: rinse and drain like mad!]
Drain the beans again and then add them back to the pot, filling it again with fresh, cold water.Again, use 3 cups of water [JL's note: coconut milk+ date syrup according to recipe] per cup of dried beans.
Bring the pot of beans to a gentle boil and let them cook until they're tender.Keep testing the beans for doneness.
After the beans have finished cooking, remove them from the heat and drain them.Your beans are ready to eat (or to be used in that fabulous recipe you found [JL's note: In my Coconut-Ginger Infused Black Bean Brownies!) SOURCE
I'm going to tell you right now – I love, love, love these brownies! Better yet? My omnivore husband loves them even more than I love them!
Coconut-Ginger Infused Black Bean Brownies
by JL Fields @ JL goes Vegan
Ingredients (Makes 12 brownies)
For the beans
15 ounces dry black beans (soaked overnight; weigh the beans after the overnight soak + rinsed and drained)
2 tablespoons date syrup
1 can (13.5 ounces) organic, light coconut milk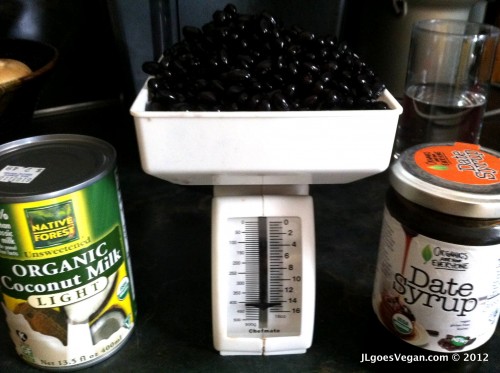 Additional ingredients for the brownies
3/4 cup no-sugar added applesauce
2 teaspoons vanilla extract
1/4 cup date syrup (if you prefer a sweeter dessert, you may want to increase this a bit)
1/2 cup cacao powder (I used 100% organic and raw)
1/2 cup millet flour
1/8 cup ginger-dark chocolate, chopped into chunky pieces
1/4 cup chopped walnuts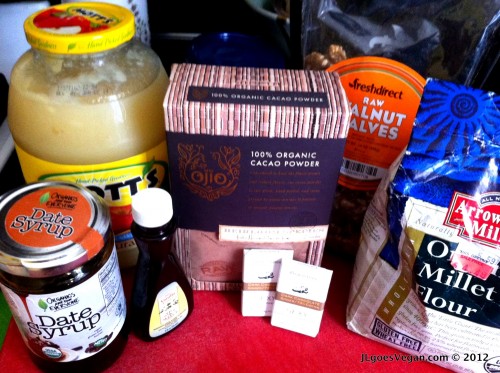 Instructions
For the beans
Place black beans (rinsed and drained), date syrup and coconut milk in a pressure cooker.
Lock the lid into place and bring to pressure.
Cook at pressure for 12 minutes.
Allow for a natural release.
Once pressure is released, remove the lid, away from you, and taste the beans for doneness.
If necessary, simmer, lightly covered (do not lock lid in place) for 5 – 10 minutes.
For the brownies
Preheat oven to 350F.
Pour cooked beans into a food processor, with an "S" blade, and pulse to chop up the beans.
Add applesauce, vanilla extract, and date syrup and blend until smooth.
Add dry ingredients, cacao powder and millet flour, and blend until smooth, resembling a cake batter.
Add half of the dark chocolate and half of the chopped walnuts to the food processor and quickly pulse (don't blend) so the pieces are mixed in but still chunky.
Pour batter into 13×9 baking dish, lined with parchment paper. Sprinkle the remaining chocolate and walnut pieces on top.
Bake for 50 minutes.
Remove brownies/parchment paper from the baking dish and let cool on a rack for 20 minutes.
Serve and enjoy!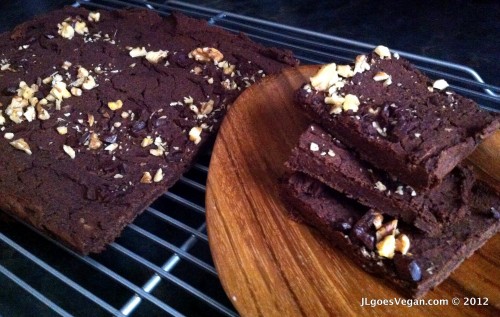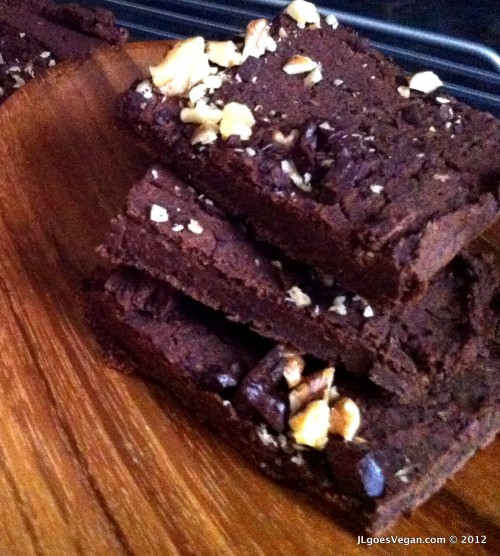 This recipe was a leap for me. I don't bake. Not other people's recipes and I sure as hell don't try to come up with my own baked creations. And, as you know if you're a big-time vegan blog reader, I'm not some genius here. Black bean brownie recipes abound on the internet and in cookbooks but I simply never fell in love with any of them. So I decided to experiment with subtle, less "sweet" flavors – and bring my love of using my pressure cooker for homemade beans into play – to create my own (gluten-free!) version of the bean-dessert "classic". I really enjoyed the depth of flavor and I hope you do, too!

I Eat Plants columnist JL Fields is a certified vegan lifestyle coach and educator. She shares plant-based education, recipes and cooking techniques, as well as animal rights information and resources, on the popular blog JL goes Vegan. Her original recipes have been featured on Foodbuzz, BlogHer and Meatless Monday. She is the editor of the community blog Stop Chasing Skinny. JL is the founder and lead consultant for JL Fields Consulting and serves on the board of directors of Our Hen House. Follow her on Twitter, Facebook, Pinterest, and Google+.