Burrata, a restaurant in Eastchester, is named after the creamy, silky cheese: a combination of mozzarella and cream. And though there are several dishes that feature burrara, the star of the menu is the pizza. It's cooked in a beehive-shaped wood-burning oven, gleaming and glittering in gold tile, with the word "hearth" written across the top.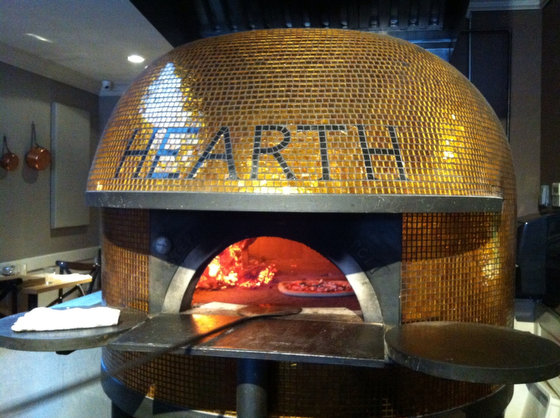 The oven comes from Naples, designed by third generation builders. It's insulated with the volcanic soil of Mount Vesuvius!
We went early on a Saturday and were among the first diners in the place. But by the time we left, it was humming. Families, dates, earlybirds, the works. Burrata, it seems, appeals to everyone.
The pizza, thin-crust, of course, and Neapolitan-style, is really very good. A charred crust that's crisp and chewy both. The toppings are top-notch. The Brussels sprouts pizza comes with mozzarella, cognac onions, pancetta and pecorino; an outrageously good combination.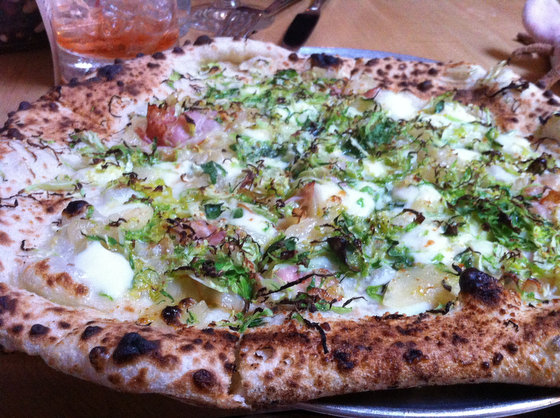 The chef-owner, Chas Anderson, is originally from Westchester, but spent time in Italy and in the kitchen at Tarry Lodge (which is obvious from his "Sunny" pizza, which comes with guanciale and a sunny-side up egg, just like at TL).
Negronis, more pizza, and salads after the jump.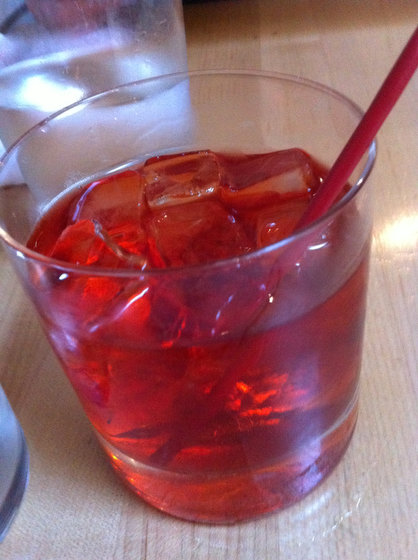 The negroni was a little heavy on the campari, I thought, but it grew on me.
As I mentioned, we arrived and the restaurant was mostly empty.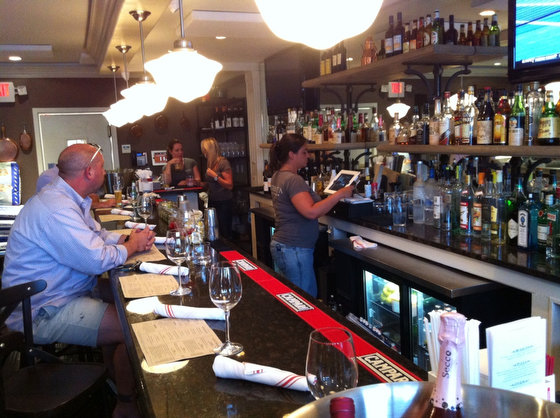 But we made do with our little table for three in the back near the pizza oven.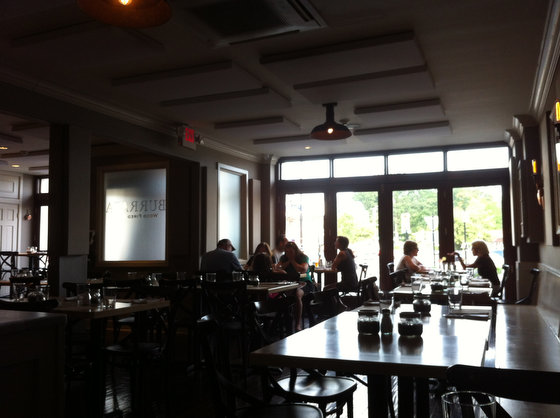 We started with a couple of contorni, or side dishes (yes, as appetizers). The Lacinato Kale salad with wood-roasted garlic, chili flakes and ricotta salata: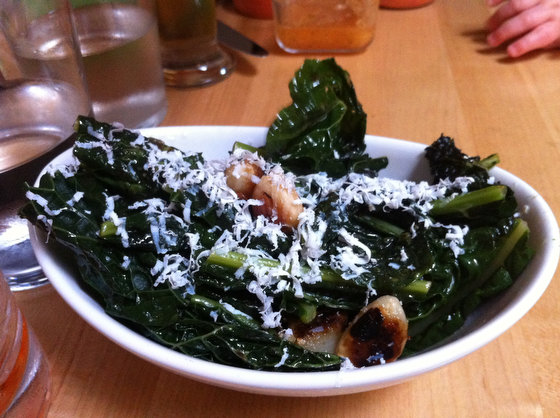 And crispy potatoes with truffle aioli: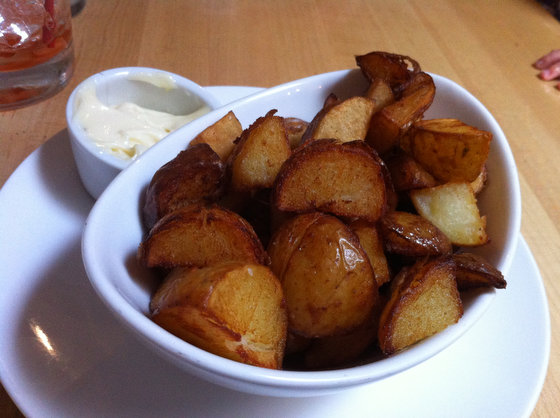 I would have appreciated a little less stem on the kale, but the flavor was nice. And the potatoes were utterly addictive: crispy and salty with a steamy soft center. The truffle aioli worked wonders, too.
The signature heirloom tomato salad with burrata was a bit disappointing: too cold.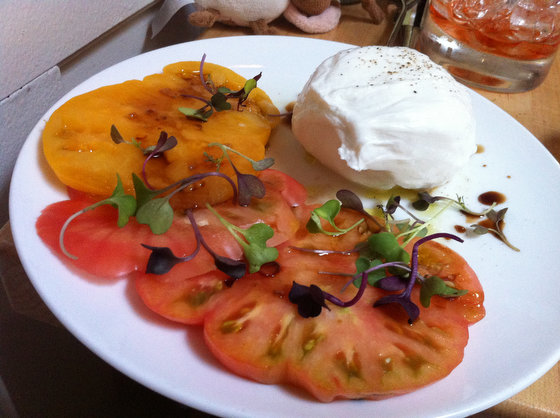 Both tomatoes and cheese would have benefitted from some time at room temperature to bring out their flavors. The cheese should have been runny and gooey. Too bad!
But then the pizzas arrived.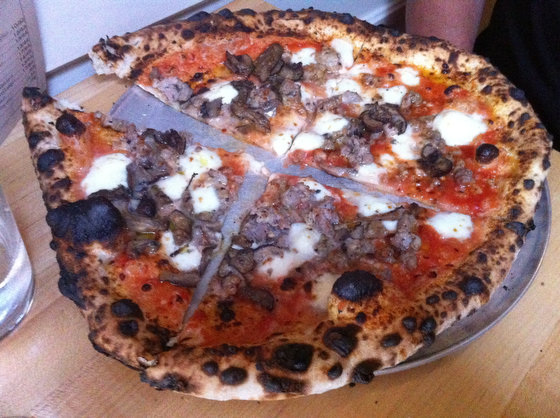 My husband's was sausage with tomato, wild mushrooms, mozzarella, pecorino, garlic and chili flakes. A meat lover's dream without being like a garbage pie. Balanced and flavorful.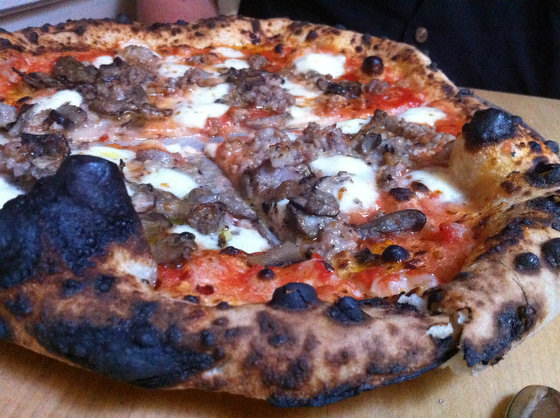 And my Brussels sprouts pizza was a delight.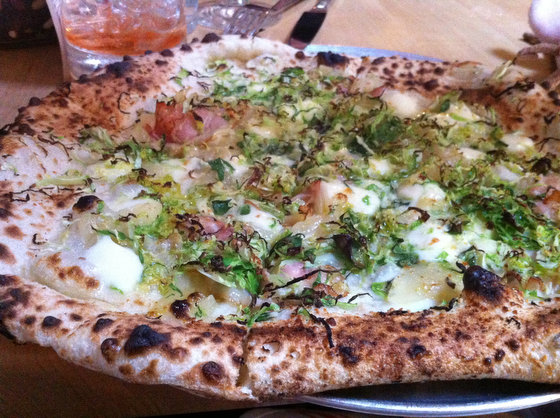 We did have dessert: a pana cotta that we thoroughly enjoyed. I don't have a photo, though. And I also had a terrific rosé: a Lagrien from Terlan in Alto Adige. It was bright and crisp and paired great with everything.
We can't wait to go back.