What is it about winter that makes you want to bake? With a big snowstorm raging outside, I get out the cookie sheets, cake pans and muffin tins. Here are five great recipes to make during a snowstorm.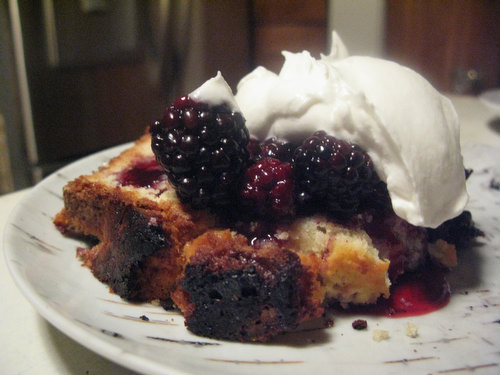 I love this recipe from one of my favorite books: "Sunday Suppers at Lucques," by Suzanne Goin. Pastel Vasco is like a really buttery pound cake with fruit in the middle — and on top. I've made it with other fruits — like strawberries and blueberries — but mostly I like it with blackberries. And cream, of course. Recipe for pastel vasco.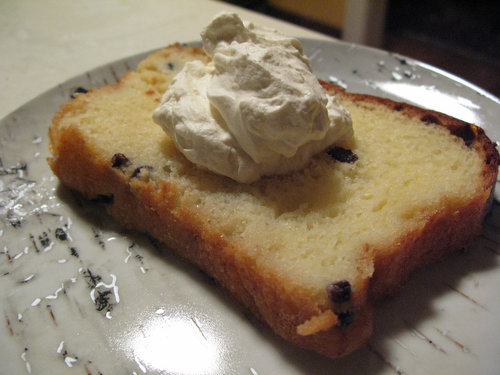 The recipe is perfect for a snowy winter's day, especially if you're home all day, supervising children that should otherwise be in school. Because the by the time they finally go to bed tonight and you get a chance to enjoy the fruits of your labor, you're going to be really happy this cake is full of rum. Recipe for Baba au Rhum.
A little caramel from a Heath bar, a little flaky sea salt, a little crunch from walnuts — and a whole lotta chocolate. What's not to love in these cookies? Recipe for Chocolate Toffee Cookies.
David Leite, who wrote the recipe for this, gets the texture just right. It's so wonderful: moist and rich without being too cloying. The orange flavor just dances there in your mouth. A friend of mine once said: "You know when you have a cake that doesn't need icing, you've got a great cake." (And it's great with coffee in the morning, too.) Recipe for Portuguese Orange Olive Oil Cake.
Do yourself a favor and invest in a madeleine tin. There's nothing like enjoying these gorgeous little cake-cookie combos fresh and hot out of the oven. Nothing!
This article was originally published on Feb. 8, 2013.