Alain Eigenmann, owner of Alain's Bistro in Central Nyack, has opened a new restaurant downtown, where he's doing Spanish tapas with a classic French twist. Lomo with celeriac salad. Roasted asparagus served cold with romesco. Duck pate. Even Greek meatballs have tzatziki dipping sauce is in the shape of a slice of cucumber.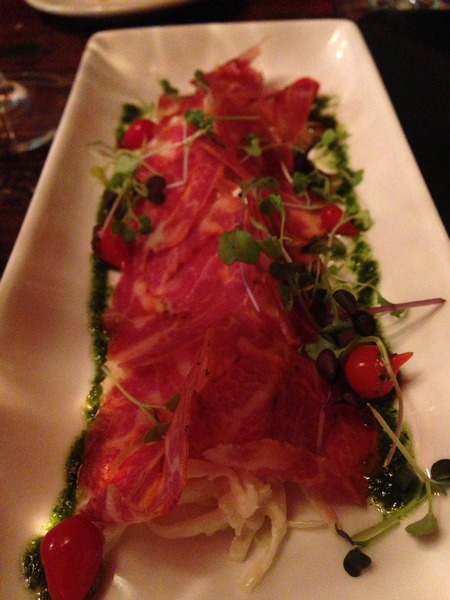 Lomo with celery root salad.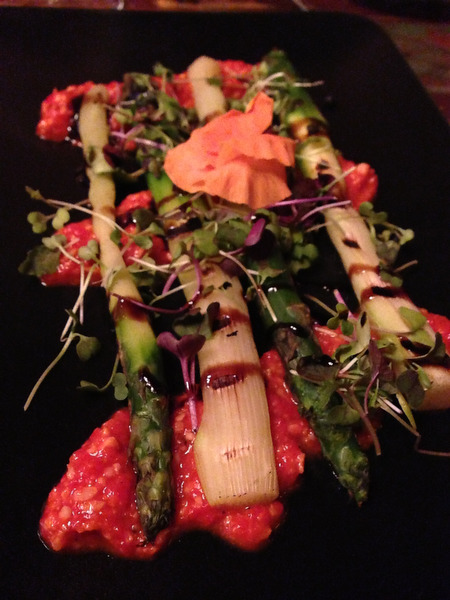 Asparagus with romesco sauce.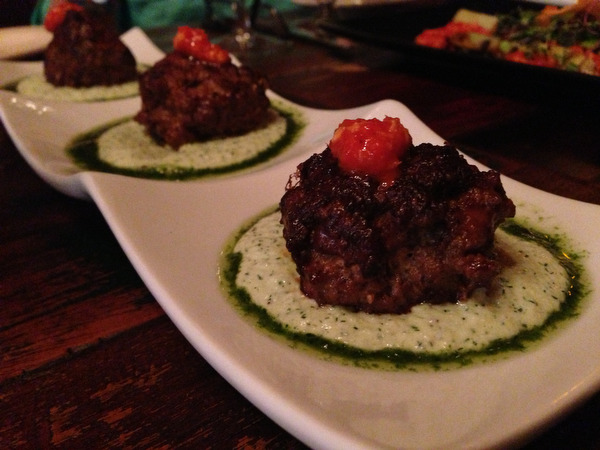 Lamb and beef meatballs with tzatziki sauce.
We liked many of the dishes — this crabcake below was a highlight —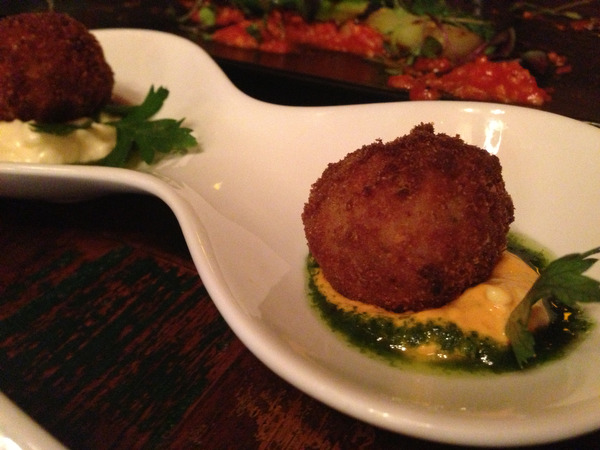 — but we also felt like the menu was a little all over the place. Does this duck pate (quite tasty), belong on the menu with serrano-manchego quesadillas (sort of pedestrian)?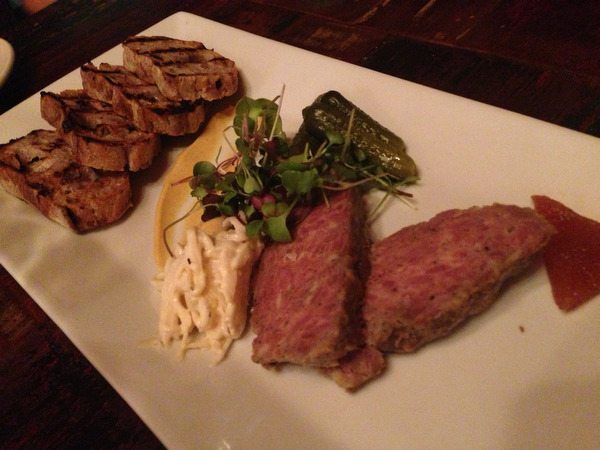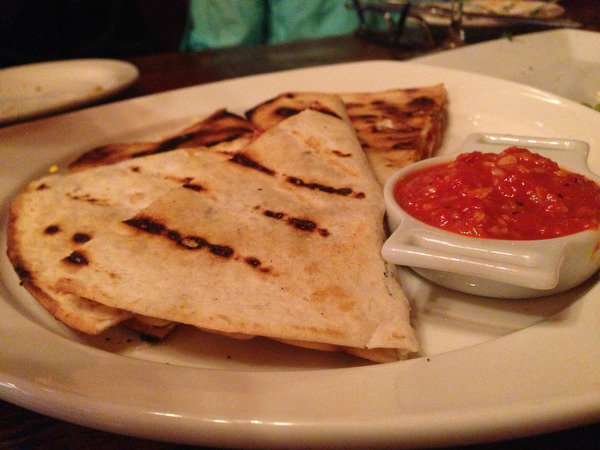 One of the best dishes of the night was this tomato-watermelon salad.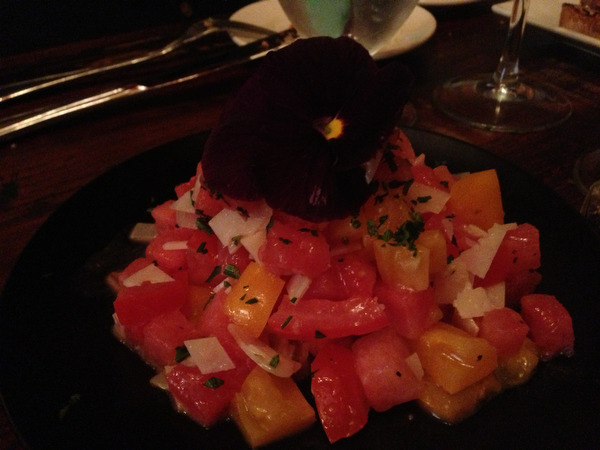 I think that was perhaps because it was also one of the only seasonal dishes on the menu.
My dad wanted to try the cod brandade, so we ordered it. But not very summery.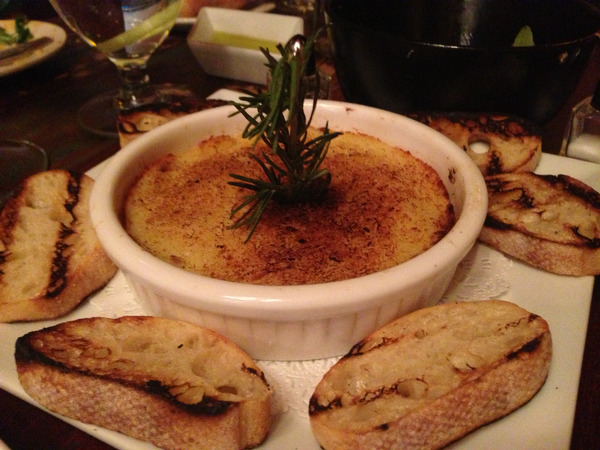 And not that creamy, either.
This was an arugula salad. Peppery and refreshing.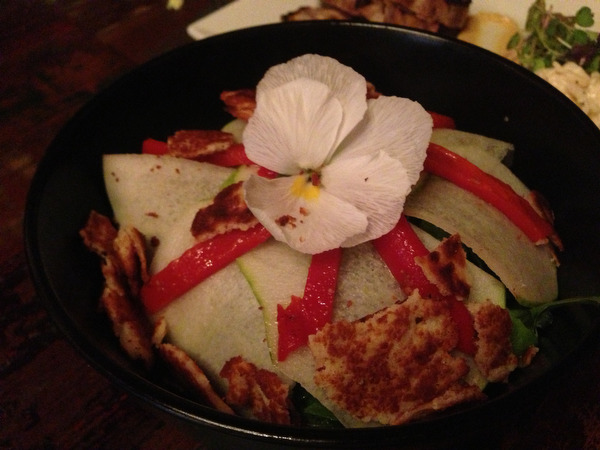 The mussels, not pictured, weren't up to the standards of the terrific mussels we've had at Alain's other restaurant, Alain's Bistro. (Link here. We loved that meal.)
The chorizo-bean dish is very similar to his cassoulet, and very good,with terrific depth.
It being a new restaurant in Nyack, it's all the rage: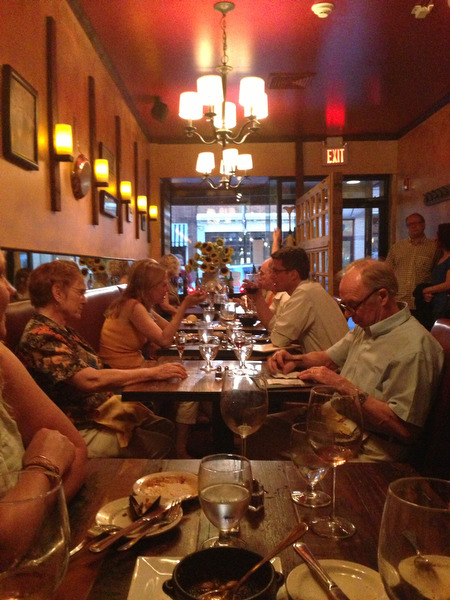 And we did have a fun meal. I would say all in all: good, but getting off its feet. Let's give it another go in another few weeks.
The 411 on Alain's Wine & Tapas: A tiny restaurant on Main Street in Nyack where the Spanish tapas come with a classic French twist. Combinations of lomo and celery root salad and roasted asparagus with romesco have one foot in both worlds. The seasonal dishes are best, but the meatballs and crab cakes are also standouts.